THIS RESTAURANT IS NOW CLOSED
New kid on the Clarendon Street Block, Rice Barn is in a great spot near the busy Golden Gate and Clarendon Pubs, it is a gorgeous hint of Summer evening when we wander down to check it out!
It's small, well presented and pretty quiet, the staff are really lovely and make sure that we are seated with a couple of glasses four our BYO and a couple of menus super quick.
There is a great selection of all the usual favourites and we go for fish cakes and chicken satay to start with.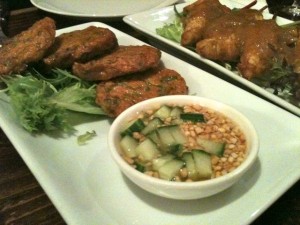 Yum yum yum! The fish cakes are smooth, spongy with a great blend of spices and succulent fish, a good tangy dipping sauce makes these a brilliant start to our little feast.
The tables are starting it fill up as we tuck into chicken satay – generous chicken fillets with a good, rich, not too sweet satay sauce, there may be a bit dripping down my chin but it's ok – I have some roti to mop it up with!!
The mains are a good mix of salads, stir fries and curries – just add your choice of protein or vegetable!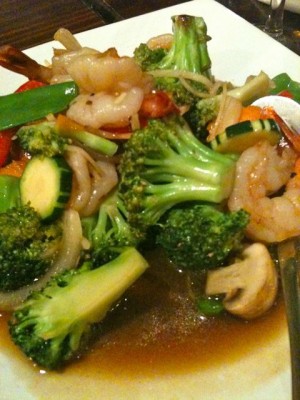 The prawn and ginger stir fry is excellent, good quality prawns, not a poo shoot in sight! Crunchy perfect vegetables and a quality oyster sauce, touch of rice and it's a great dish!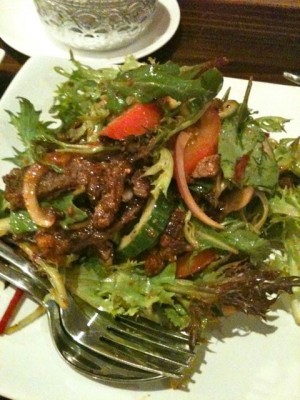 But the highlight for me and the dish that our host presented with smiles and news that this dish was only thought up that day – the Oriental Beef sirloin Salad is gorgeous! Great quality meat, barely browned and served in a light fresh salad, wrapped into a roti and I have me the king of wraps!!