THIS RESTAURANT IS NOW CLOSED
A little whisper in Epicure and I have booked us a table at Grain on Victoria Ave, Albert park. What used to be a dark curry house is now a stunning, light restaurant with a hell of a facelift!!
The transformation is impressive, the floors are partially tiled to allow for the front area to transform into an inside/outside area with some serious looking hinge work on the front windows! I can't wait for the Summer to see how this all works!
It's a Tuesday night and though quiet when we arrive, by the time we leave the tables are all full and everyone looks like they are having a great time!! The staff are lovely and though busy they are obviously trying to make sure we are all having a great time.
The mention in Epicure included the fact that there are no Specials on the menu, if it is good it is on the menu and they intend to change the menu up every few weeks, assume this is so they can work with the best of the seasons and keep the menu fresh for returning visitors to enjoy.
The menu is really easy going, entrées sounds great and can be served as a singe entrée or a tapas style sharing plate for the table. Mains are a great selection of steak, chicken, prawns, lamb, all served with a choice of one of the sides – generous and refreshing!!
We order a nice bottle of Clare Valley Sauv. for the table and though we are tempted with the entrees we go for a main each with a variety of lovely sides – fried rosemary potatoes, roasted thyme vegetables, steamed spinach and steamed vegetables. The sides a pretty good serves as well as the mains so we are all impressed with the quality and how reasonable everything is.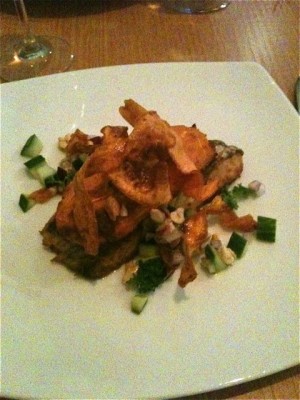 My barramundi fillet with sweet potato and thyme crust and cashew and lime salsa is fantastic! It is an interesting flavour combo with the wholesome comfort of a deep. Sweet potato crust and the zingy salsa but it works really well and the table is pretty silent as everyone tucks in.
Other plates around the table look great, I manage to sneak a taste of the tender braised lamb in it's puff pastry case and it is just gorgeous, flaking away and with a modest amount of pastry that keeps the dish nice and light. The crispy seared duck break with fetta, lentils, pine nuts and grappa reduction doesn't get any complaints and the lemon pepper crusted prawns look amazing.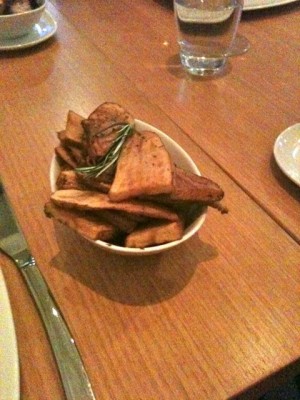 No room for dessert today, not even a tempting peak at the menu but I have a feeling this may be our new 'Local', with great food, lovely service and a changing menu there is no reason to not keep coming back!