HOW exciting, a new Argentinian boasting authentic parrilla hot coals cooking, we are craving a big fat steak and I think we have come to the right place!
Nestled away on a Melbourne laneway, the restaurant looks gorgeous, plenty of bar stool eating area as you enter, a full on open kitchen with the orange glow of the parrilla and a whole heap of people creating a serious buzz about the place!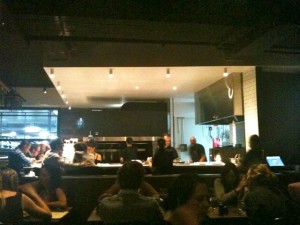 After locating our booking (there were a few hiccups with our first booking and the second one was still not quite right!) we are pointed in the direction of the back bar area as we are a bit early, the place just seems to keep going, with a reasonable table area, long bar and small outdoor area at the back too – on a balmy night it will be great to chill out there with a cerveza and a few empanadas!
We get first row seats for the coolest toilet entrance ever! Press the button to slide open the door into very smart convenience!! We crack on with a couple of glasses of 2007 Las Pampas Desierta Malbec YUM! It is a great night for some serious reds and red meat!
Once we get to our table we are blessed with the most gorgeous guy from LA to look after us, he couldn't have done a better job of making sure we ordered the best of the menu and our glasses were never empty! (I think his name was Michael – and he was brilliant).
We move onto a Ruca Malea RM Cabernet from Mendoza and I start to have some seriously worrying reactions to the furry hides adorning the walls and …. even on the menu!!! There is plenty of leather around too!!
There are a heap of amazing sounding dishes on the menu, we are guided through the best way to make up a sharing feast and start with a few oysters or 'Ostra' and a gorgeous potato, cheese and cauliflower empanadas, he looks a bit silly on his own but he was yummy!!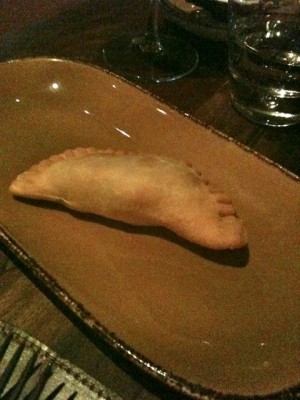 We also get a look of approval when we order the fried cornmeal or 'Humita' with chipotle mayo – OMG, they are so good, crunchy outside and soft and scrummy on the inside!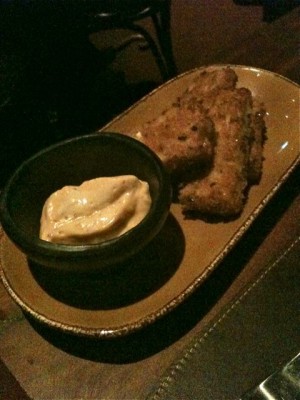 We also get the Ceviche, kingfish with chilli, sweet potato and ginger, it is stunning, tart but smooth and with a good chilli hit, it's a small dish but it packs some real punch!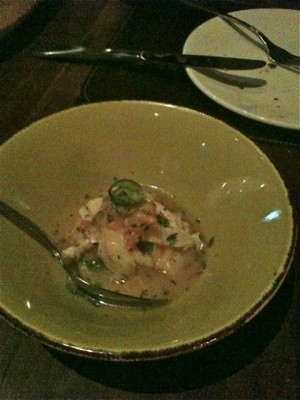 But it is meat we want and meat we shall get… and some token veggies! The 'Zanahorias' or burnt carrots with thyme, feta and dill, another recommendation – are delish! But it is the 'Tira De Asado' and 'Entrana' that we are completely blown away by!
The ribs – 'Tira De Asado' are a bowl full of succulent, charred, crispy, naughty beef short ribs – they are amazing and we have soon abandoned all cutlery and are getting down and dirty – not a scrap of meat with be left, just a pile of bones!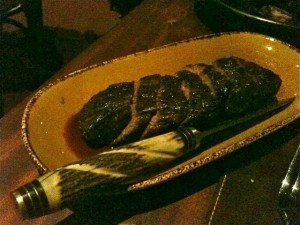 And then we have the 300gm Hanger Steak or 'Entrana' that is the winner! Bit hunk of sublime beef, juicy and that amazing charred flavour from the parrilla that makes my absolute night! We are way to full to carry on into dessert for some more authentic treats but I am sure we will be back!