A fellow foodie suggests a quick trip out to Carlton for some Cheese research and we skip off of La Lattoria Mozarrella Laboratory on Elgin.
It is an absolute haven of wonderful produce, yoghurts, fresh basil, crusty bread, Olive oils by the litre and the most amazing cheeses!
With an abundance of choices, the cheese all made from pasteurised cow's milk sourced locally within Victoria are, they all look amazing, everywhere you look there are fresh pots of ricotta, balls of boconccini, dried flavoured mozzerella, donuts, borrino and much more!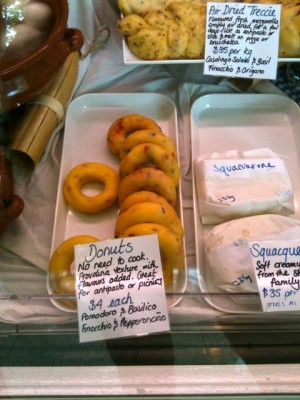 It is so hard to choose, even though I know I can come back at anytime, I want it all!!
Fortunately we have a few friends visiting over the long weekend so perfect excuse to stock up! The staff are lovely and offer samples of the Diavoletti 'Little Devils' small provolina shaped smoked cheese with a centre of olive filled with fresh chilli. We also get to try the gorgeous olive oils on sale and we are absolutely coming back with a litre bottle to fill up very soon.
We come out ladened with bags of the many cheeses on offer, we have spent 30 minutes celebrating the world of Mozzerella and we cannot wait for a return visit!