My first endeavour to Surrey Hills, where better but the much talked about Red Lantern restaurant? With Luke Nguyen and Mark Jensen at the healm of this classic house conversion with uneven wooden floors and an ethos of sustainability and responsibility to provide amazing Vietnamese cuisine without an impact on our environment.
We are visiting as part of the Let's Do Lunch celebration in Sydney with the Crave Sydney International Food Festival, a month of amazing restaurants, food, wine and the Night Noodle Markets of Hyde Park. The idea is to open up the doors to the wonderful restaurants of Sydney with a set main dish and glass of Brown Brothers wine or a beer for a bargain price.
The Red Lantern dish of Cha Ca – Pan fried Mulloway fillets marinated in turmeric, dill and served with vermicelli noodle salad sound amazing if not a different flavour combination than I have tried before! We will definitely take one of those plus a selection of other dishes to share and get the full Red Lantern Experience!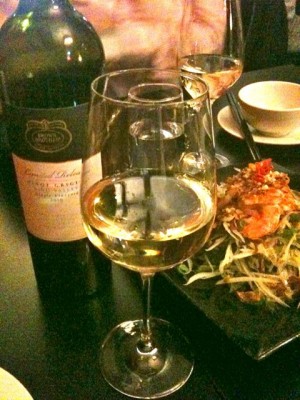 Our first dish, with a lovely, fresh and crisp Brown Brothers Limited Release Pinto Grigio is the Goi Du Du – Twice cooked pork belly, tiger prawns,green papaya, perilla and mint… OMG, the prawns are so succulent and fresh with crunchy green papaya and super yummy pork belly – AMAZING!!
There is quickly a plate of 'Muc Rang Muoi' Lightly battered chilli salted squid served with a fresh lemon and white pepper dipping sauce, the squid is perfection, crunchy but soft and juicy!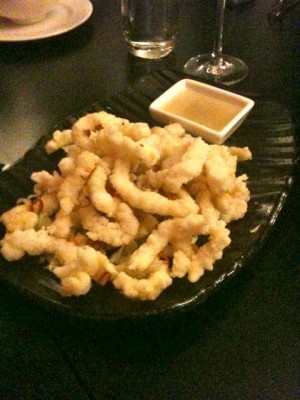 Cue – Mouth Watering at thought of this dish!!
We also enjoy a great dish of 'Banh Tom' – Aunty 5's rice cakes with tiger prawns, caramelized pork, pork floss and shallot oil is not something I have tried before but it is a beautiful dish,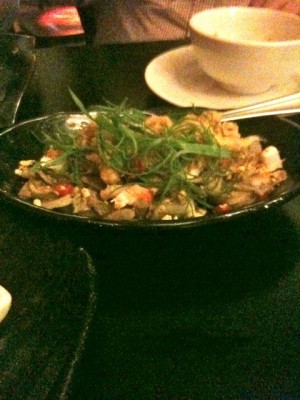 I am learning to love pork floss – it's a bit different for me but it is so good!! There are great layers of flavour with the shredded pork, spring onions, chewy rice cakes and yummo prawns – it is fantastic!
Then we have the fish – wow! The dill is amazing! The flavours are mild but strong! They are just amazing, with a gorgeous flaking fish and a vermicelli noodle salad, it is pretty generous and we are all loving it!
The wagyu beef braised in tomato and vietnamese spices is so juicy and soft, with rice, chillis and onion is amazing!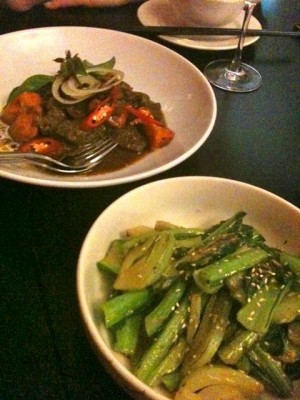 Teamed with some stir fried greens and we have set up an amazing feast! As we have grazed through the flavours of Vietnam Luke has come out several times to chat to everyone, we have had amazing stories of the markets of Sapa and the lovely old French gentlemen that have inspired Indochine. The new book is lurking in the corner and there are squeals of delight when we find out we can purchase ahead of release and Luke will gladly sign them!!
Several signed copies later and we find a little room for dessert! There is a platter for two option which we are happy to take up plus a side of Red Lantern doughnuts with fruit jellies and vanilla ice cream!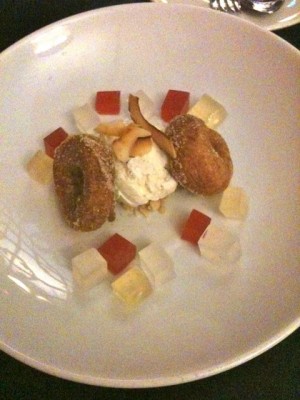 The doughnuts are that perfect edge of gooey but not sticky! They are warm and moist and the perfectly formed cubes of fruity jelly are so pretty, like little jewels on the dish!
Our dessert platter offers 3 tastes of the Red Lanterns finest desserts,
1) Banh Cam Mang Cau – Sesame and rice flour dumplings filled with Sour Sop Served with black sesame ice cream
2) Com Nep La Chuoi – Red sticky rice wrapped in banana leaf and chargrilled. Served with fresh mango, and coconut ice cream.
3) Kem Flan – Coconut Crème Caramel made with bio dynamic eggs and organic coconut milk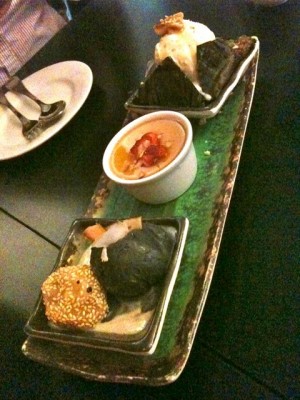 WOW WOW WOW!! They are astronomical! They are the most amazing desserts! The flavours are amazing especially the Sour Sop in the Sesame and rice flour dumplings, salty but sweet – So good!!
We have had an amazing few hours and I am sad to leave but time to go home! But we have our memories, our photos and a beautiful book to remember the day by.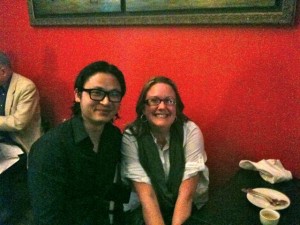 Thanks for Luke and everyone at Red Lantern for an amazing time, especially the front of house lady whose name I forgot to ask for, the hostess with the mostess! She was so welcoming, entertaining, encouraging and overall just lovely – we wanted to hug you when we left, you made us feel so welcome!!