It was a big choice of where I could go for my birthday, I could go anywhere I liked…. there was almost too much choice! However with a couple of special bottles snaffled away I went for The Age Good Food Guide's BYO Restaurant of the year!
Osteria La Passione is relatively unassuming from the outside, seating just 40 people and only one seating you are comfortable in the knowledge that you are welcome to stay as long as you like and enjoy the warm homestyle hospitality of Carmine Costantini and his team.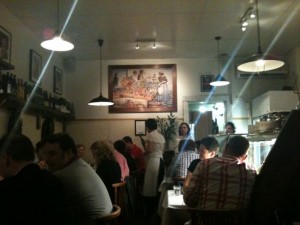 The offering is simple, 6 courses for $75 plus $20 per bottle BYO – so don't take a $25 bottle! We had some stonkers to take and they were worth every penny! You can take on more courses if you feel the need and they are fully licensed – basically get comfortable and let the feast commence!
Course 1 – Salt cod Fritters and ocean trout start off, a delicate portion full of fabulous flavours! I wanted another serve but I know there are 5 other courses to go!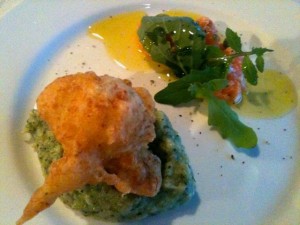 Course 2 was a sublime yellow and red capsicum soup, wholesome, rich and comforting, just fabulous! Crunchy croutons and a light zingy pesto it is a genius in the world of soup.
Next up is a simple, peasant style slow cooked oyster blade with vegetables, it's a simple dish that lets the food do the talking, mild, slow cooked beef full of beautiful flavours from the rich stock – it's good, traditional, yum!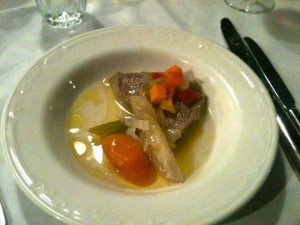 The next round of dishes are some of my favourite meats of late, goat and rabbit get a bit of a bad rap but I have noticed they are becoming more popular of late. Many restaurants have tried to bring everyone back around to realising the seemingly poor mans meats make amazing slow cooked dishes, plus they can go for a premium but cost relatively little compared to more higher quality meats. I love them, treated right they absorb flavours and create rich, flaking heavenly dishes that love to roll around in pasta and gnocci.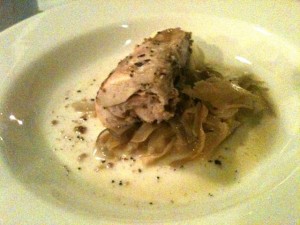 I love that they bring finger bowls for each dish, they want you to get in there, lick those bones clean!!
So the wines have gone down well, a 2002 Patricia Cabernet Sauvignon is spicy and with rich berry flavours it has suited out slow cooked meats well and the resident sommelier is a great gal, infact the entire team are fantastic, quiet, subtle you barely know the dish has arrived!
There is also an unlimited amount of gorgeous fresh herby bread, great olive oil and tangy balsamic…. keep it coming!!
Again they are tempting us with more pasta and delicious dishes but dessert is going to be just right, a lovely panna cotta with poached pears.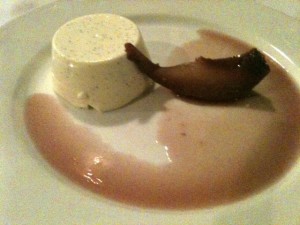 It is wonderful, creamy, yummy – DELISH!!
It has been a fabulous night, we are finishing off a 2006 Tahbilk Shiraz when the only dampener off the night occurred.
When presented with a smile, a bottle and two glasses and invited to try the Chef's own Lemoncello I didn't expect to see it on my bill at the end for $10 per glass – maybe I missed something but it did disappoint me a little bit!
But still – I had a great time and I would definitely head back… with looser pants to go that extra dish or two!!