Lunchtime on Glenferrie Road and it's Hawker Food style!
Petaling Street is one of three restaurants with sisters in Box Hill and Glen Waverley, the menu has 115 items on it! They are packing in everything a good Hawker Food Fan would want with Soups, Satays and Sambals. There are sizzling dishes, nearly 30 noodle and noodle soup dishes, 17 rice dishes with everything from beancurd to ribs. 10 different fried rice dishes, 9 congees and if you have any room left just one dessert!!
We grab the last table for our big group and all start to go through the vast menu of noodles, rice and curries, we all want everything! We need to share!
Our resident Malaysian expert quickly orders for us all and we are pouring tea and catching up when the dishes start to arrive, in true lunchtime fashion they are quick!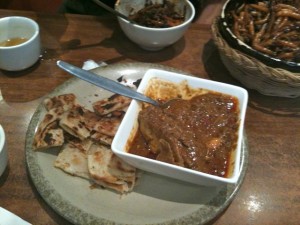 Roti chanai with chicken is great, the warm, flaky Indian bread with a generous, juicy serve of chicken curry packs a good chilli punch and would be a great meal on its own and costs just $9.50.
Lips still tingling from the chilli hit we get into the Nasi Lemak, traditional hawker style with coconut flavoured rice, peanuts, cucumber, egg, ikan bilis and beef curry – it's a colourful plate full of lots of different flavours that all come together to make a final explosion in your mouth!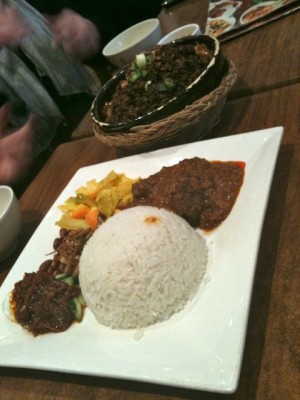 The ikan bilis are tiny dried anchovies full of salty fishy flavour, on their own they are pungent and are not for everyone, one of those fun flavours that divide a table! Love 'em or not when combined with the raw peanut, coconut rice and spicy curry that are completely loveable! The boiled egg and covered in a malaysian 'chutney' are also strange and wonderful when you give them a chance!
Hokkien Mee show us looking like big fat worms slathered in rich soy sauce, fried egg noodles with chicken are a good test of a regular dish done very well and there is dark soy flying everywhere as we tuck in and suck them up!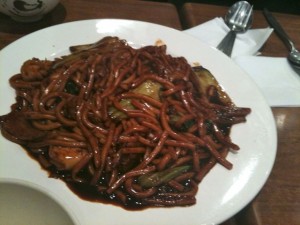 Fried Koay Teow, spicy rice noodles with seafood and bean shoots are big, fat, flat noodles piled up on the plate with plenty of veggies and seafood to scoop up and enjoy but my favourite of the day was the Pataling Street style short rice noodle in a claypot.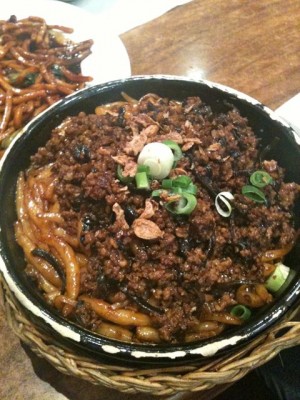 The minced pork, chinese mushrooms and rice drop noodles are fantastic, full of flavour and great texture the noodles are almost like a spätzle they suck up all of the minced pork and spices and create a fantastic, filling, fun dish that I would definitely rush back to get some more!