On a warm Saturday morning we discover the Dahon Tea Lounge has opened and it's a perfect day to try some refreshing iced tea.
The Dahon space is friendly, light and decorated in a relaxed way with warm terracotta, dark woods, greens and very cool lighting that creates a welcoming space to grab a couch and enjoy some tea and snacks.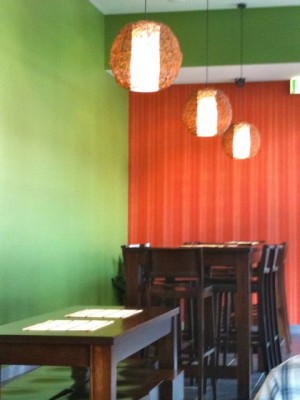 The tea menu is fantastic, plenty to choose from and a great menu too. There are Gourmet Iced Teas shouting out flavours like Mango and Passion fruit, fresh kiwi, Berry Tea with lychee syrup and fruit, Citrus Tea and Apple Tea with fresh slices of pear.
There are also Dahon Fusion teas, available for 2, 4 and 12 people to enjoy and offering soothing options like 'Stressless – Assists stress management. A blend of lime blossom, oats straw, chamomile, blue corn flowers and rose petals'. Or the 'Relax – Drink for relaxation and to relieve insomnia. A combination of lime blossom, peppermint, rose petals and calendula petals.'
They all sound fabulous and if thats not enough there are also a selection of Green Teas and other teas to satisfy all palates.
There is also a reasonable food selection including baguettes and salads, as we enjoyed our Iced Apple teas the lovely staff brought around some samples of the of the fresh baguettes including the BBQ Pork – Chargrilled Filipino bbq pork served with pickled green papaya and the Spice Crumbed Chicken – Crunchy chicken tenderloins in a spiced crumb coating, roasted vegetables with lashings of cucumber yoghurt. They are both delicious! The Pork is marinated with a gorgeous sweet sticky sauce that is still very light and the chicken is succulent and crunchy.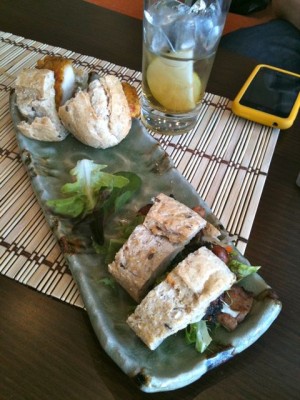 There are also some great sounding salads on offer including 'Asian Salad – A wonderful combination of Asian flavours of marinated beef, shredded wongbok, snow peas, bean sprouts, crunchy fried wontons in a spicy soy sauce and lime dressing' WOW – how good does that sound?!
And the 'Roasted Vegetables – A hearty mix of chunky roasted vegetables served with balsamic and pine nut vinaigrette' YUM!
With 'Pancit' Filipino Rice vermicelli noodles sautéed with pork and a combination of vegetables
'Lumpia' Filipino springs roll filled with pork and vegetables. Served with pickled green papaya and a soy sauce and vinegar dipping sauce. Hand Cut Potato Chips and Sweet Potato Chips you will not go hungry, and if you were worried there is also a gorgeous selection of desserts too!
With free wifi and free smiles all around, the Dahon Tea Lounge gives off a fantastic homely feel and you could easily see yourself setting up there for a few hours with the laptop and some fabulous teas – I think I will very soon!!