If I had a great friend who owned a cool cafe I would want them to be just like Ora!
Brilliant, friendly, lovely staff! Gorgeous food, yummy cakes and a damn fine cup of coffee!
It's a short visit for a much needed coffee and it is a cup of joy, it looks just beautiful!
We are in between breakie and lunch but that doesn't stop us getting a few of the delicious cakes they have – to share ofcourse!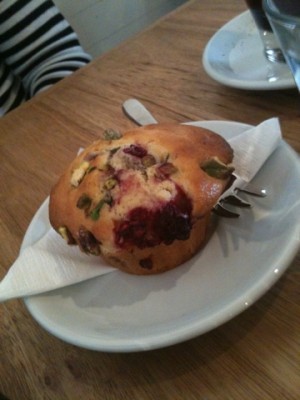 The raspberry and pistachio muffin is divine, soft, moist, the raspberries have 'popped' and formed little pockets of sweet, tart heaven and coupled with the gorgeous sponge it is a masterpeice of muffinery!!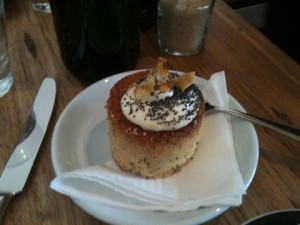 The lemon and poppy seed cake is just as good, the cream cheese and crystalised lemon on the top are to die for! The cake is subtly lemony with plenty of poppy seeds and lets face it, it's reduced to crumbs in a matter of minutes!!
The rest of the menu looks very impressive, along with the more traditional bircher and eggs on toast there are some intriguing standouts like fried duck eggs with black pudding and breakfast radish and parsley salad! Or salt cod on toast with poached eggs. It's a little surprise at the end of the street and I can't wait to take a trip back!