Oh MissChu – We LOVE you!!
Foodie Fridays are now all about getting out somewhere fabulous on a Friday lunchtime and today we escaped to the little hole in the wall haven that is MissChu's!
It's super busy and you grab a table where you can or join the fast moving queue to a table out back, I am a professional table hunter! We are fine!
You order on your form and the selection is amazing, with the full knowledge we have over ordered we have submitted our form and are soon sucking away on frozen young Coconut drinks, it's a tastebud tricker! It's yummy and creamy and a bit weird! I am instantly a fan!!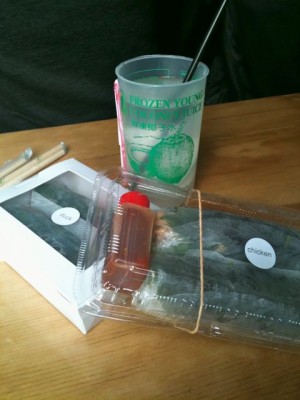 MissChu is known as the Rice Paper Roll Queen and it is very obvious why, the Roast Duck & banana flower rice paper rolls are sublime! Packed with the freshest ingredients, noodles, yummy duck and overall 'delishiousness' they last all of two minutes!!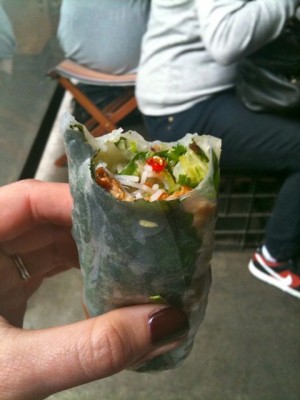 All of our food is on the table within 10 minutes of ordering, and we are tucking in just as fast! The steamed dumplings with scallop and prawn are super fresh with thin pastry and scrumptious filling and with a decent chilli hit on the sauce. The Shanghai pork dumplings are equally amazing, though I am struggling to eat anything delicately here! Fortunately we are all friends and regardless of sauce dripping down our chins we are very happy foodies!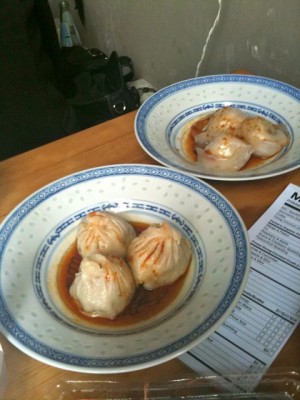 The bbq pork char sui buns are the best I have ever had, the bun is wonderfully soft and almost marshmallowy! So delicate as we bite in to the filling of sweet, spicy pork – the BEST ever – enough said!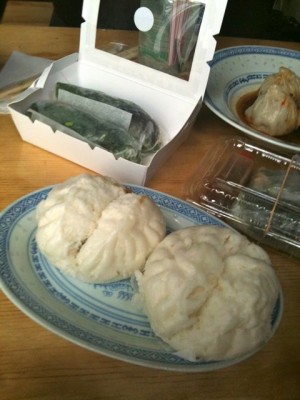 The Vietnamese warm vermicelli spring roll salad with traditional pork Hanoi is packed full of all the flavours I love.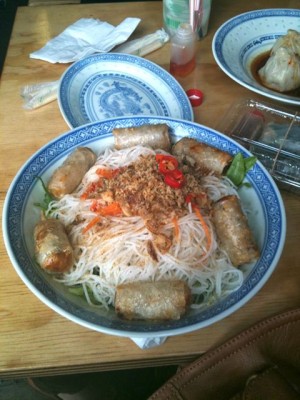 Plenty of chilli, coriander, mint and all that lovely sauciness, mix them up and chomp away! The perfectly formed spring rolls packed with heaps of fabulous flavoured pork make this more than a meal on its own but we are sharing!!
Because we haven't eaten ourselves silly yet we also share a Dessert of the Day, creme caramel, demonstrating the French influences of Vietnam, its smooth, creamy, sweet and luscious with a fabulous lingering flavour – perfection on such a small plate!!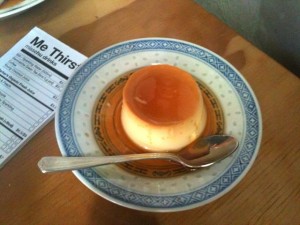 The place is rammed but the staff are just getting on with it, as fast as they are serving the happy customers at their imitation street food tables, they a pumping out amazing food in their cute little doggy bags to the eager customers to take away.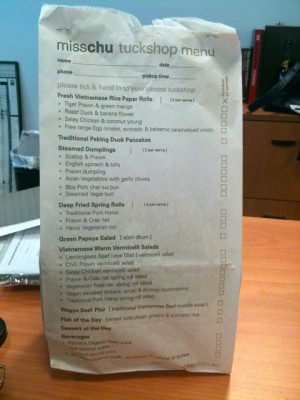 This a fantastic place and I cannot wait to go back and take everyone to share in the amazing food, a few Lucky beers and some excellent MissChu hospitality – though maybe we shouldn't tell everyone!! Shhhhhhh!