Four seasons in one day in Geelong, it would be lovely to be in Paris! But a cosy little Parisien nook on the Geelong front will certainly suffice today!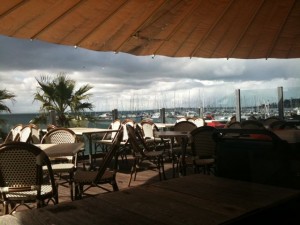 Le Parisien is a gorgeous second level restaurant made to enjoy sunny afternoons with a glass of champagne and some pretty lovely French food! The inside is very cute with white table cloths, sparkling glasses and mini table lamps. The staff are lovely and friendly and we feel very welcome on a lunchtime to grab a table with a view and enjoy some local seafood.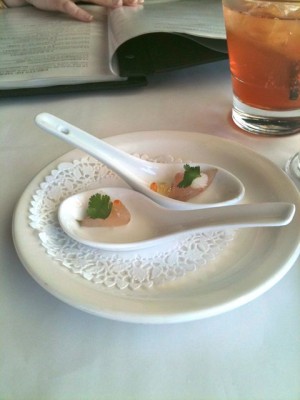 Always love a little something to start with and a fabulously fresh kingfish ceviche amuse buche is a nice touch as we debate over the amazing looking battered fish and chips we see at the other table vs the warming chowder or oysters or calamari…..
I settle for a scallop and calamari Nicoise stlye salad and fries for the table! My tablemate is going for the chowder and I can feel the food envy creeping in!
To keep us going we take up the offer of a serve of cheesey herb bread and stare with a little dread and wonder at the dark clouds rolling over the bay.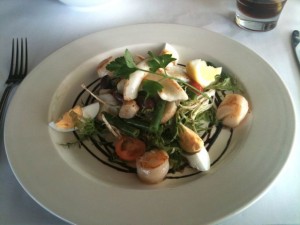 My salad is great, plump, soft, sweet scallop and chargrilled squid go well with the hard boiled egg, green beans and balsamic drizzle, with the naughty fries we are happily munching away and feeling pretty good about our little chance spotting of this hidden French secret.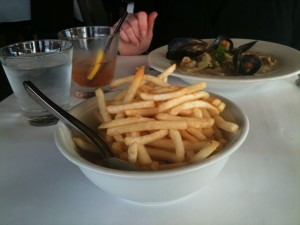 The chowder looks fantastic, even the entree size is packed full of mussels, scallops, prawns and a good thick creamy fish stock to coat everything in comforting, cozy French fishy stew!
Who knows when we will be back down this way but if we were I would definitely like to see of what Le Parisien has to offer – tres bien!