Hidden down a Melbourne laneway, the stunning building housing Comme feels like we should be entering a stately home of a fabulously rich lord! A sweeping grand staircase fills the entrance way paving the way to a fantastic area for private functions etc.
We head into the bar, a great space with a large central bar, subtle music, super cool dim lights and a great bar menu. We get to meet the guy who runs it all, Marty, and he is an absolute prince!
After a few enjoyable drinks with a larger group we break off to explore the intimate dining room, a generous table for the four of us sits next to a substantial, modern fireplace made of the same lime washed timber as our giant chunky table – I am really impressed that the dining room is not a clutter of small tables elbow room apart! Instead this is a place to enjoy with small groups and those clever to secure a table. This is the reason behind the less than great piccies, I didn't want to disturb everyone with a big flash every few minutes! So no judging on my iphone pics, they do not do the food justice but they give you an idea of how lovely it all looked!
First up – the BEST bread and butter ever! It's amazing how much pleasure can be derived from this combo but to me it is a decadent treat and a sign of a wonderful restaurant when they get it right!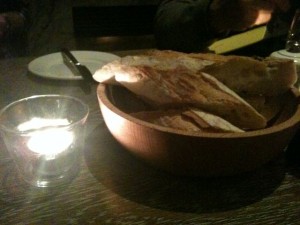 The menu is plentiful and delightful, snails, beetroot, duck confit and sweetbreads are all featured and I struggle to choose so I go with the road completely untravelled – snails! Never tried before but the new foodie in me is open to try anything once!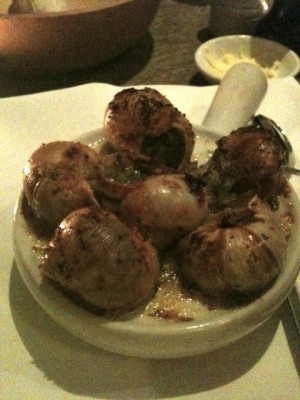 WOW! It's the best every yummy mix of Burgundy snails swamped in a garlic and parsley butter, the snails are not the gritty, rubbery little critters I imagined but instead melt into their aromatic coats and I disappear into an indulgent garlic haven, lets hope the parsley saves me tomorrow!
How good was it? There is suddenly another round of bread ordered and everyone is mopping up the last of the buttery sauce with suitably yummy, bordering on orgasmic, noises!!
I hear good things in regards to the sweetbreads, duck confit and boudin blanc, all round 10 out of 10 from the table with wiped clean plates!
Dining with a winemaker is a fun adventure, no pressure if you are given the wine list! But we are enjoying a wonderful riesling and pinot with wonderful company, great service and fabulous food.
Mains are equally impressive, my hapuka is a springy plate with a hearty slice of fish on a bed of chanterelle mushrooms, zucchini flower and prawns with a buttery light sauce. The fish flakes perfectly and the delicate flavour is perfectly complimented with it's surrounding buddies.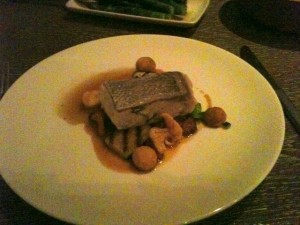 The sirloin and Otway pork appear to be just a good as we are all tucking in and swirling wine and having a lovely time!
Comme is definitely a hidden gem of the Melbourne CBD, a great bar with a wonderful wine list, what looked like brilliant bar food – mini burgers, calamari and croquettes for those needing a little something with their beer. Plus a dining room that is small but packs the punch of an Age Good Food Hat and no doubt many more to come – again I hesitate to tell everyone! Hopefully I will still be able to get a table next time!!
Thanks Comme and everyone who made our night so great!