You can take the Foodie out of the CBD but she still craves great food! The Milawa Gourmet region is a new haunt for me and I am thoroughly enjoying exploring this haven of wine, honey, pork, berries and cheese!
Lucky enough to stay at Lindenwarra on a stormy night, the balcony provides the perfect viewing spot as the lighting dances between the vines of Brown Brothers and the thunder shakes the ground beneath us!
Not far away is the King River Cafe, located in Oxley, as short drive and we are delivered to a warm, toasty restaurant with smiles and a wonderful menu. There is so much to choose from and it all sounds amazing, roasted vegetable salads packed with local goodies, beetroot and goats cheese tart, prawns and my choice of the night, Ricotta & Spinach Ratolo.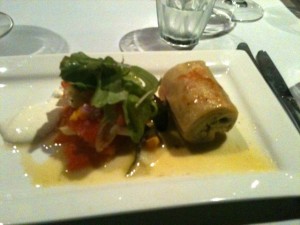 The sturdy egg pasta filled with ricotta cheese and spinach is rolled up and served with fantastic fresh smoked salmon and creme fresh. The dish is delightful! A nice flavour from the rotola and married with the smoked fish and zingy creamy sauce it just works really well! Along with this beautiful dish we have some extra guests on the table!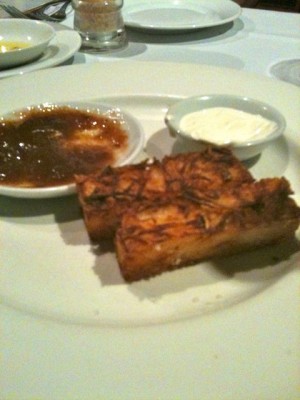 Described a wedges of potato rosti – They are the BEST! So amazing! Crispy fingers of potato and cheese rosti with sour cream and local chutney – a whole plate please!!
But I do have my main to look forward too!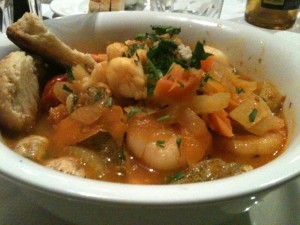 I don't remember if I have had too many bouillabaisse, I don't know why not, on a cold night it is perfect! Creamy and comforting the bowl is BIG! I barely look at anyone elses duck confit or gnocchi as a delve into the waves of luscious fish stock to discover a bounty of prawns, scallops, fish and veggies. It is amazing! I haven't spoken for ten minutes and i have barely made a dent! Despite it's size it feels amazing healthy and wholesome! I do debate whether I like the roe on the scallops, I have always thrown them away and Maggie Beer agrees with me! There is too much good stuff to worry about them so I don't try them again, I want the firm juicy prawns and chucky calamiri wet with their super fish cream stock….. it is heaven in a bowl!
If you thought I liked that dish….. wait for it…. Honey and Cardomon Panacotta!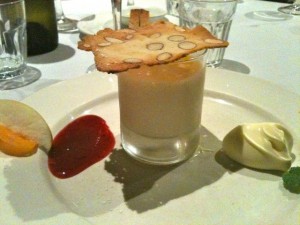 Amazing! Firm, subtly flavoured wobbly panacotta with berry couli and fresh cream – YUM! With a lovely crisp almond wafer it is a dessert worth savouring! But not for too long! It is pretty much devoured! There is also a very impressive looking flourless choccie cake and a lemongrass and ginger brulee – next time?
Everyone was just lovely, the food is made with love! The King River Cafe is lovely!