When Attica was named Age Good Food Guide 2011 Restaurant of the Year I was relieved we had booked in for the Chef's Table on a Tuesday night sometime ago – chance of getting a table now will be a touch harder!
The Chef's table on a Tuesday night is a $95 – 5 course dinner where the chef has total control! The menu is to show you what you are getting, the chef has chosen and only those with a love of all things food should attempt this!
The menu explains that the Chef's Table was born 4 years ago from Chef Ben Shewry and his teams desire to 'progress faster with the development of our cuisine, throw caution to the wind and to offer guests more variety at a reasonable price' and at first sight, though simply explained the food sounds amazing!
We opt for the matched wines taking the price per head to $150 – extremely reasonable!
I should probably apologise to the staff in advance if I don't get all of the elements of the dishes quite right or describe them with the skill and vocabulary that the peeps have at Attica, I should have recorded them to get it right but work with me on this one and obviously you'll just have to try it yourself!!
For those of you that have read a few of my posts you will know that i have a weakness for amazing bread and butter! Attica is flying up to the top of the top ten! Gorgeous, soft, dense, rye bread with a choice of creamy, yellow, fresh butter or whipped olive oil with a flavour that I couldn't quite put my finger on but I think I heard that Ben makes his own butter! It is fantastic, if I hadn't seen the rest of the menu I would have kept going but must pace yourself!!
First course, paired with a Bannockburn Sauvignon Blanc / Riesling from Geelong is the most amazing asparagus ever!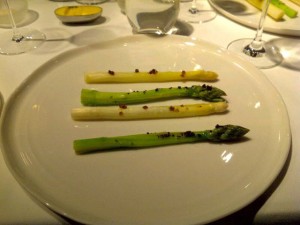 Sliced deftly in half, we are treated to raw and blanched, spring fresh sprigs of luscious flavour packed asparagus with verjuice glaze and caramalized wattle seed or black olive powder – so simply described on the menu 'Asparagus' but obviously hours of preparation to deliver four perfect specimens at the peak of their flavour potential.
The environment of the restaurant is very calm and serene, the staff are all working the floor and serving different tables, all with the height of professionalism and we are pretty happy working through the menu, our glasses are next filled with Vinteloper 'Odeon' Riesling from the Clare Valley and we are soon served, in the most gorgeous bowls, the 'Artichoke Leaves and Crab'.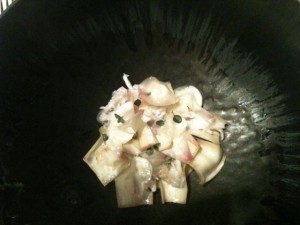 Speckled with lemon thyme, the leaves have been gentle separated and decorated with stunning crab and a delicate dressing, it's light, fresh and overall exceptional! I can't do it justice through words or pictures – it was simple but elegant and incredibly tasty!
Dish number 3, described as 'Grated potatoes, mussels and Cheddar' the dish is hopefully returning me from a bad episode with mussels! Like glistening, (slightly ugly!) jewels, the superbly fresh mussels lay enveloped in a divine cheese sauce with delicate potato, it's incredibly tasty and again very light so we are still looking forward to the next course!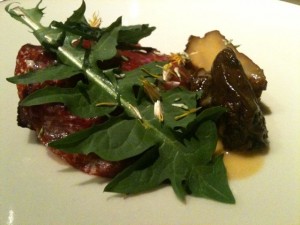 The next course is our first meat dish and it is so good! A layered dish of bresaola, skirt steak (I think! I probably heard wrong with all the excitement?!) and tongue with Jerusalem Artichoke and bitter wild greens. There is a layer of an artichoke buttery cream under all the wonderful layers and the artichoke is soft and I decide we don't eat enough if this fabulous root!
The meat is wonderful, salty cured bresaola, slow cooked beef and tongue – never had tongue before – perfectly nice! Probably depends who is cooking it, Ben has it nailed! The dandelion on the top is not overly bitter and just works well with the rest of the dish and is a welcome element.
The company is great, the staff are fantastic at delivering dishes at well timed intervals so that we aren't flying through the evening and are enjoying the wine pairings.
The dessert is described as Native Fruits of Australia and again the serving bowls are just beautiful, they frame the colour explosion of quandong and hibiscus perfectly. I looked up quandong to understand this strange fruit a bit more and apparently there are three types, I assume we are having the Dessert Quangong as the other two don't sound as good! (the blue and the bitter quandong!)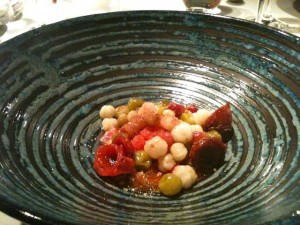 Isn't it pretty? It tasted good too!! The fruits are not overly sweet like a passion fruit or peach but they are more natural like a lychee, I reckon there might be some others in there but not sure if I can identify them, it is my first foray into Aussie native fruits! Regardless, they are the perfect end to the meal – still retaining the theme of light, fresh, innovative and impressive!
I can't say anything but wonderful things about Attica, obviously I don't need to – Restaurant of the year! I concur!! Sublime, amazing, stunning, impressive…… well I did have some more wonderful things to say afterall!
Thanks to everyone at Attica for a wonderful night!