I have found out something new about myself – you cannot offer me enough dumplings!
Spring has sprung and we are off to visit HuTong Dumpling Bar on Market Lane, there are already a crowd of hungry dumpling cravers hanging around outside waiting for a table, as a solid dumpling professional I have booked in advance and confirmed BYO!!!
Hutong seems tiny when you enter, there is a small entrance area and then a few lucky tables that sit on the ground floor in front of the Dumpling Viewing Window! Yes, you can sit and watch the dumpling masters at work! They make it look so easy manipulating tiny dough hankies into perfect formed wantons, moneybags and dumplings, there are bamboo steamers piled everywhere and we are getting very excited about eating lots and lots of these little wonders!
The staff are military precision efficient! Their SAS ear pieces ensure everyone is working together to deliver customers the best possible dumpling experience! We are fifteen minutes early but our table is ready and so are we! Team Leader notifies upstairs of our arrival and as we enter the top floor we are waved across to our table with menus and smiles.
Brown Brothers Limited Release Riesling is quickly on the table and with full glasses we start to go through the menu, so many dumplings, so little tummies…. Nah!!
I always like to try something new and different but sometimes you have to allow yourself a favourite on the table, the wantons with hot chilli sauce are quickly ordered. Don't be afraid, they aren't that hot! They are a perfect heat that makes the spicy chilli oil draped all over the dumplings a dipping sauce for everything else on the table, it is soooo good!!!! With eight in a serve there still aren't enough! We should have ordered two!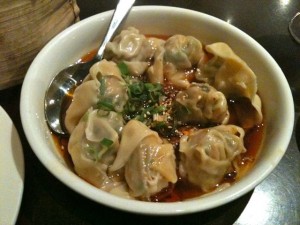 The spicy squid is perfection! Light and crunchy batter with good squid – I am still damaged from experiences in lower quality food establishments where you bite into a squid ring, fight through the rubber to try and bite a piece off only to have the whole ping back in your face! Hutong Spicy Squid is nothing like this! The squid is expertly cooked so that it has just the right level of resistance, no rubber squid injuries here!!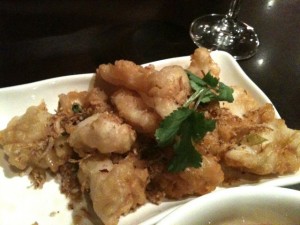 The Cantonese Style Prawn dumplings are standard issue, great filling, nice wrapper and a happy all rounders, they quickly disappear from their steamer basket along with the Duck Meat Dumplings, so simply named for such a yummy little pillow of goodness! Duck meets dumpling – always a winner!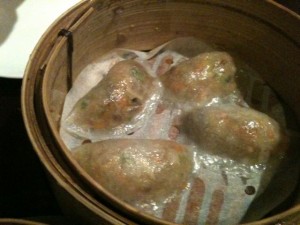 (apologies for slightly alien-esque picture!!)
The Brown Brothers Riesling has gone down a treat and we are still to hit some mains so we treat ourselves to a Max Ferd Richter – Riesling Graacher Himmelreich Kabinett, I have recently gone back to the German Rieslings and am pleased to have found that the over sweet, sticky wines that are in my distant memories are completely untrue! This is fresh, lively, springy and refreshing and goes perfectly with our next round of dishes.
The Salted Braised Pork in new style (Shanghai) looks 'different'!! The picture from the menu looked more like a joint of pork cooked and presented sliced on the table, this is a little trickier! The red sticky looking dome surrounded by bok choy looks like the menu but when you break in you actually find its something quite different! The top is wafer thin pork and inside is actually a super rich, deep and dark filling of mushrooms and I am pretty sure it was pork floss. I have seen pork floss in the supermarkets and always wondered, I have even read of peeps on Twitter recommending it in a sandwich with mayo! The dish is confusing at first – cue puppy dog head tilt! But then you get a first taste and it works, it is great! My fellow diner expressed in delight – its like a pie!!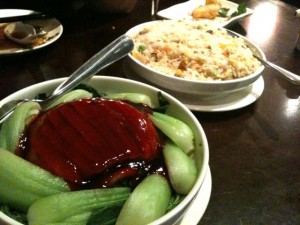 The egg fried rice is good, goes well with the other dishes and does the job!
The Chicken with vegetables was a standard order, get something reliable and healthy for the table! The dish had plenty of lightly cooked fresh veggies but I wasn't in love with the chicken, probably just a fussy girl but it wasn't the stand out of the night.
I probably should have stuck to more bamboo steamers, there were at least another 5 dumplings I could have tucked into Steamed Garlic Chive with Minced Prawn, Scallop Dumplings, Spring Rolls, Shredded Turnip Pastries, Money bags packed with Prawn, Mushroom and Snow Peas, Spinach Dumpling…………… I really cannot get enough dumplings! The menu was missing a few faves too, pork bums, prawn toast and sui mai would have been welcome too! I wonder if there is some sort of dumpling help group I can join!!
Overall the Hutong Dumpling Bar was great, we happily enjoyed the food, the BYO is always a bonus and we left with full tummies and smiles.