From the ashes a brilliant new bar has arisen!
It was sad to hear fire had destroyed the Hofbräuhaus on Market Lane back in June 2011 but the boys are back in town!
The new spot next to the still sad and gutted old Haus is light and fresh and very German beer hall! Everything is still looking very new and the guys are still working out the very cool music system they have installed but it ticks all the boxes for me;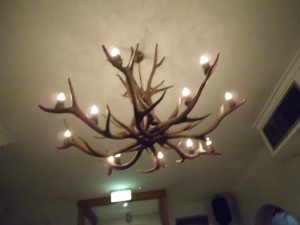 1) Great German music mixed with some retro chic
2) Massive beer glasses
3) Berentzen ApfelKorn
So German music, think oompah oompah and the urge to slap your thing and ankles! It creates a certain type of night, one that makes you want to crack into some BIG beers!
You can have;
A Glass (wuss!)
A half litre (bit girly!!)
OR the Beer size of real men (and strong women) A 1000ml! A litre glass of your chosen tipple from tap to tankard! Get two and you can have a work out with these beauties!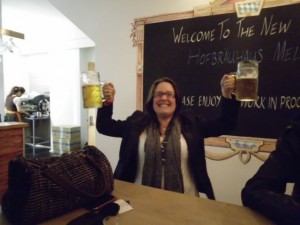 I don't encourage binge drinking in anyway, these big boys are to be savoured and clashed together to the music and cheers! You could make it last the night and at $23 you probably should make it last a while! Beer of choice is full of great sounding beers, the lovely owner will help you choose from good old DAB, HB Dunkel, HB Weissbier and Spaten, through to pilsners like Paulaner, Radler, Diesel and Russen. You can also head off into the slightly stranger Mango Weizen and Strawberry Weizen. There are even a couple of nice sounding non- alcoholic beers so that the driver can join in the fun with Clausthaler, Erdinger Weissbier or Malzbier. The Schnapps menu is equally impressive, infact the Menu of beverages takes a Friday night to a whole new level.
Obviously a litre of beer needs something to go with it! Enter the Berentzen ApfelKorn, similar to a schnapps this is a potent little number that doesn't make you pull too bad a face when drinking, it is sweet and strong and goes down too easily – I learnt this during a teenage trip to Germany!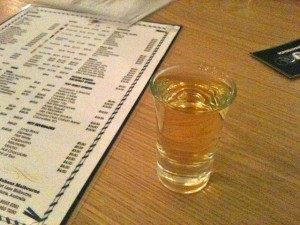 The new restaurant is upstairs and a peak at the menu reassured me that there is plenty of good traditional German / Hungarian fair! Plenty of wursts and frites, we weren't eating tonight but I cannot wait to go back for a big plate full of Wiener Schnitzel and Sauerkraut!!