Change of plans and we find ourselves on Gertrude Street looking for somewhere to enjoy a lazy lunch. Charcoal Lane stops us in our tracks, $45 for a 3 course lunch with a glass of wine? Why not!
Charcoal Lane combines fine dining with a training environment to enable Aboriginal and disadvantaged young people to train up and move on into employment.
To quote their website "Through contemporary Aboriginal art, Aboriginal stories entwined within the restaurant and aboriginal flavours fused into modern cuisine, customers are invited to experience and engage with contemporary Aboriginal cultures. Charcoal Lane apprentices and trainees interact with customers and add to this engaging dining experience."
So not only are we going to have a fantastic lunch but we are doing our bit for the community!
The space is fantastic, light and airy with nicely spaced tables and cool roof mounted artworks, the combination of wood, space and lighting makes it a great place to settle down and enjoy a leisurely meal.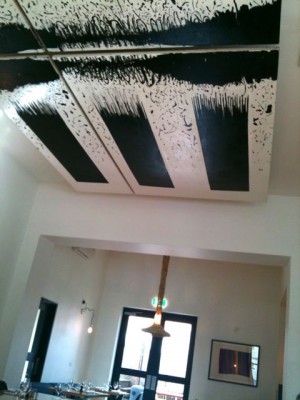 So the sign says 3 courses and a glass of wine for $45, too good to be true, I hear you cry but we were not going to be disappointed and lets face it, it's absolute bargain at any level! So being a cunning little foodie group, there are three of us and guess what? The menu is a choice of three entrées, mains and desserts! So we are going for all three of the entrée and mains and a double up of the choccy dessert instead of the fruit salad! It's Saturday after all!!
The wine choice is nice with either a Tarra Warra Chardonnay from the Yarra Valley or the Mr Smith Shiraz from Mclaren Vale, the sun is shining and we decide to start with a glass of Jansz bubbles followed by the Chardonnay with our mains.
Entrées quickly arrive and WOW! They look absolutely amazing, the plates are presented beautifully with delicate precision last seen at Vue! I am over impressed and almost hesitant to dive in and destroy all the hard work…. almost hesitant!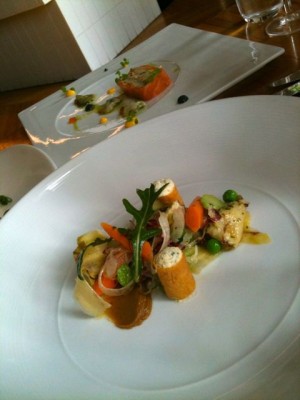 The Smoked Salmon wrapped around delicate John Dory with creme fraiche and an oyster vinaigrette is fantastic, the oysters are wonderful and I want more! The serve is generous with fresh and balanced ingredients that makes everyone make lots of good yummy noises!
The Globe Artichoke 'barigoulle' (stew!) with crispy onion tart, pickled carrot and pinenut paste is a party on a plate! With fresh peas, fennel and creamy filled cigars it looks good and tastes even better!
The Chicken Liver Parfait with griddled sourdough and fig jam is simplistic and simply delicious, if we weren't having three courses I would have just ordered a whole lotta of this creamy, aromatic, rich and luscious baby and a whole lot more bread to scoop it up with! It is everything I love about a parfait – perfection!
So, next are the mains, all three to share please! We are feeling very lucky so far to have found this little gem and enjoy such amazing food.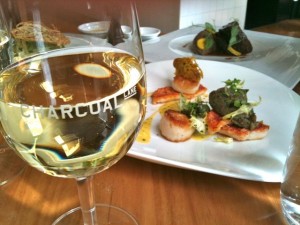 The Red Mullet with scallops, eggplant and saffron confit onion is stunning, the fish is perfectly cooked and topped with a sweet, plump scallop, the saffron confit onion is utterly delicious and played with my taste buds for a good few minutes before I gave up and asked what it was! Very clever! As elegant dash of buttery sauce completes the dish.
The Polenta, slow cooked egg, shaved asparagus, pecorino and black truffle with a crazy, crispy net perfectly balanced on the top is rich and a vegetarians dream! Beats the usual risotto and tart! The polenta is heavy and thick, coated in the perfectly popped oozing egg it soaks up all of the flavours and creates an unexpectedly wonderful dish. If you can make polenta this good you can rule the world!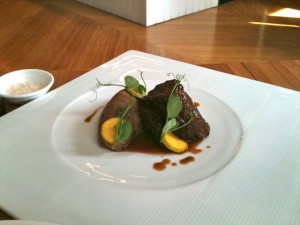 BUT stop everything – I give you the braised Veal cheek, courgette and parmesan and black olive pommes puree – round of applause please!! My absolute favourite of the day, I am sucker for anything slow cooked and anything with mash! But this is the king of them all! Succulent, flaking veal cheek packed with fantastic flavours and teamed with super creamy and uber tasty mash – it is a WINNER!!
A Winner before dessert – interesting!
BUT……….. Gingerbread pudding, sauce suzette and mandarin chantilly cream plus two serves of the 'Chocolate' frozen liquid chocolate, cocoa custard and cherry ice cream. Such simple descriptions for such top desserts!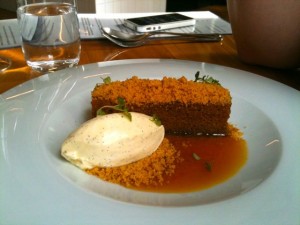 The gingerbread pudding is soft, aromatic, comforting and such wonderful spices and flavours! The rich cream and pool of sticky sauce make we want to curl up on a big chintzy sofa and not share with anyone!
If we were judging the 'Best Desserts Ever' competition we would have a tie on our hands because 'Chocolate' is a dream! There is a soft chocolate custard dome which begins to ooze and melt immediately as spoons carve out its luscious flavours. Then a square of frozen chocolate delicately dusted pink and a bright square of jelly and a big droplet of cherry ice cream – OMG, it's heaven, it's decadence, it's a chocoholic dream!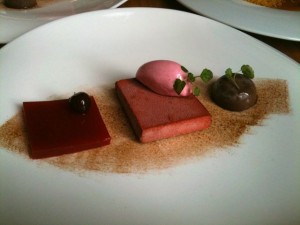 It's seriously good, we are all getting full but can't stop, we've had great wine, amazing food, brilliant service and after finding my watch has stopped over the sheer indulgence of a long, lazy, foodie haven lunch we stumble back out into the sunshine as if still in a dream! Did we really just get that experience for under $70 a head……. surely not!