RESTAURANT NOW CLOSED
I haven't laughed over lunch so much in a long time, it helps to have great company, good bubbles, sunshine and sometimes the staff can even be entertaining!
There is a big group of us out on a work lunch to celebrate and we are booked into the Fenix, there is a fair bit of pressure on the place, Gary has been a tough cookie on Masterchef and you expect he has carried those standards over to his Melbourne Restaurant. Sat on the Yarra this impressive building has created a great structure which presents a restaurant with a huge amount of natural light and there is plenty of space as we descend.
A table of twelve we are split across two tables of six which I understand but there are a few sad faces! We are given the 'Express Lunch' menu of 3 entrees, mains and desserts however with a vegetarian who is allergic to eggplant the staff are surprisingly inflexible in regards to ordering anything from the main menu. With few people dining that day and a large group such as ours ready to enjoy the themselves I was disappointed that we couldn't order a bit more.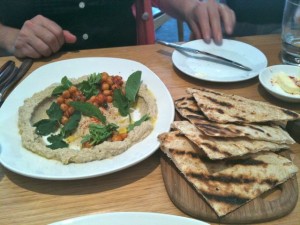 The entrees are very nice, my rosemary cured beef carpaccio with candied celeriac black truffle and PX Sherry reduction is really enjoyable with fresh, soft beef surrounded with punchy flavours and presented beautifully. The baba ganoush also looks great though a big entree if you aren't sharing! Save room for dessert!!
The cutlery is very cool! It takes me a while to work out how my knife has been balancing all this time! But no it's space age cutlery for the Fenix!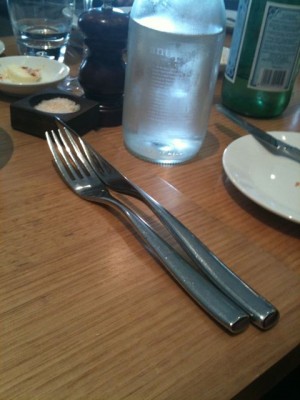 The laughter continues as we order some Pirie Sparkling to celebrate, I ask for just a little as I am the driver and our waiter serves me the taste checker serving, I smile and agree it's lovely but then he wanders off and pours everyone elses glasses! Bless him, I meant a bit more than that!!
Another strange moment when we ask if we can order sides for the table, some salad or chips to share, at first it appears that we are getting bread and butter so that should be enough, with persistance we are told that we can have some sides but what they are is at the chef's discretion!! How exciting side roulette!!
The bread and butter are fantastic, I love the decadence of gorgeous salty, creamy butter and great fresh crusty bread and lots of it!
For main I am having the 'Ragout' of rabbit shoulders with Parisienne gnocchi and gemoulata, it's all a bit disappointing, though a hearty serve with good looking gnocchi pillows and rich looking ragu the rabbit is over powered by the bacon used in the dish and when a bone is also fished out of my mouth I have had enough but it's all ok because we are having dessert so we don't want to fill up too much!
The side dishes roulette are also a little disappointing, a relatively average small salad and two fantastic looking mini pans filled with potato gratin which when served is actually very watery mushy and not great.
But forget about it – dessert time!!
The Choices are;
'The best lemon tart you will ever eat' with Thyme ice cream and poached Queensland strawberries
Hot Doughnuts with Spiced pears, chocolate and cinnamon sauce
Goat's curd and vanilla cheesecake with pumpkin icecream, breton bisuit and candied bacon
We quickly band together to order all three between us so that we can taste – everyone loves dessert!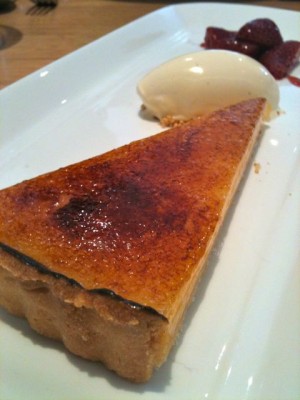 It is a bit of a big call – 'The best lemon tart you will ever eat' and sadly it isn't my favourite lemon tart ever, but we all have different requirements! I like a deep cold fresh sweet lemon tart whereas this had a fantastic crunch top like a creme brulee but that meant a slightly warm filling. It's all nice enough, the thyme infused ice cream plays with your mind, it's nice but odd but good but strange!!
The Goat's curd and vanilla cheesecake with pumpkin icecream, breton bisuit and candied bacon is a great looking dish with a lot going on on the plate.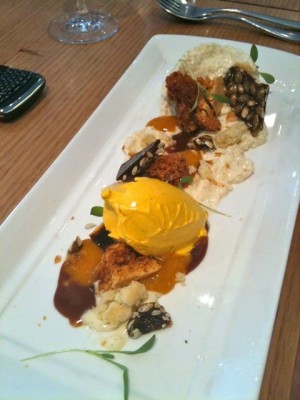 The pumpkin ice cream is such a vibrant looking colour that we are all a bit surprised when we all described it as tasting of 'nothing'! The cheesecake is very goat cheesey and each flavour is stand out, altogether I am told they work well.
The last one of the trio is the Hot Doughnuts with Spiced pears, chocolate and cinnamon sauce, there has been a lot of excitement for this one and again we seem to have over hyped it all – too much pressure maybe as they are a big serve with a gorgeous looking thick sauce, poured over at the table.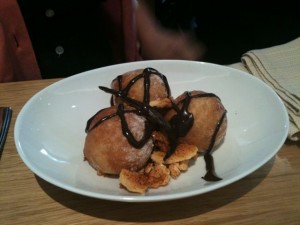 Again we are all a bit under whelmed as we agree some ice cream or custard or even a secret centre would have boosted the dish that bit more, otherwise it's a big serve that ends up a bit dry. The honeycomb is serious teeth sticking homemade yumminess.
Maybe we are all a bit spoilt or maybe Gary gets higher expectations than others but it wasn't the best lunch ever but for 12 people it was great value and though we were on the Express Lunch we didn't actually leave for 3 hours! I kept thinking what would Gary think to the bone in the dish or the inedible vanilla pod served with dessert – Masterchef has created a bit of a critic in us all!!