THIS RESTAURANT IS NOW CLOSED
I love Curry! I really do and I have enjoyed learning to make traditional curry from scratch, grinding spices and combining flavours but sometimes you just want a good bottle of plonk and a curry at the local.
Struggling to find a good local in South Melbourne we were very excited when the lovely Mirchi Indian, which had a fire, was finally replaced with Darbar Delight. We monitored the progress and were very excited when furniture was in place and menus were printed and ready to go.
I'll get the negatives out of the way early – why open without a licence? I like to have a beer or glass of Chenin with my curry, little sad but nothing major with a dry night! The only other thing was the deafening silence, no fun Indian music just the hum of the fridge and ping of the microwave, combined with the bright lights it was feeling more like a takeaway than a cosy local to spend many a night.
BUT – the food was great!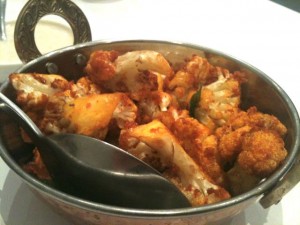 The Gobi 65 deep fried cauliflower florets marinated with special Indian spices were great, felt like we were being very healthy and the cauliflower had just the right bite still to it with some good flavours.
The Onion Bhaji with onion marinated with spices coated with chickpea flour and deep fried were my favourite, I loved these spicy, dry batter, no grease or fat just lovely good thick coating of yummy chickpea batter.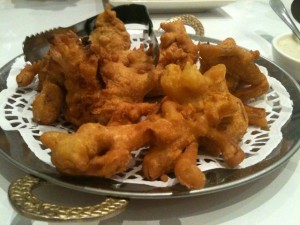 The mains were really nice, the Palak Paneer with cottage cheese cooked in a chunky spinach sauce was fresh and wholesome, the sauce was more rough than the nuclear palak smoothie that you sometimes get and combined with onion and spices it held to the cheese and created a really yummy dish.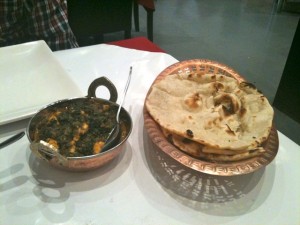 The plain naan as authentic and a tick from all of us along with a saucy rich Lamb Rogan Josh, the naan worked well to scoop up the tender lamb with yoghurt and a good level of spices.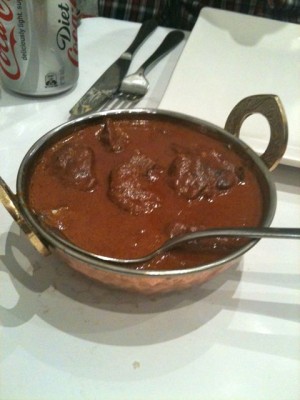 Everything probably needs a bit of time to settle down or perhaps the guys are aiming more towards the takeaway market, with some great offers and bundles on the menu it might seem this way.
Either way those onion bhajis will have you going back for more!