Knowing where all the hidden lunch spots are is invaluable in Melbourne! Located up from the Collins and King Street food court Ootoro is a cute little Japanese restaurant, with heavy wooden tables and chairs and a quick take away window, it is a great spot for hungry CBD dwellers.
We are settled at a table and the menu is good mix of bento, don and ramen, Bento D at $12.90 boasts teriyaki salmon, salad, sunny egg, seasonal fruits, rice and miso soup. We quickly order one D, two C's and a serve of Singapore noodles. In a flash the boxes start arriving and they are big!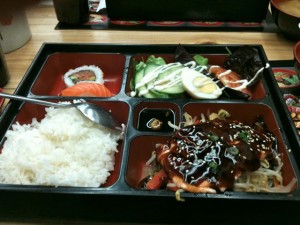 It's enough lunch for all four of us! Two delicate pieces of sushimi and sushi, a heap of rice, a nice fresh salad, a generous serve of teriyaki salmon and a bed of stir fried vegetables – fantastic! The fish is nicely cooked and the sauce is tangy and sweet. The vegetables and salad are a welcome addition to a nice healthy lunch and there is plenty of green tea going on from a super cute tea pot!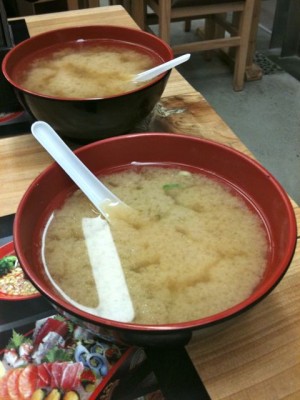 There is also a big bowl of really good miso soup, plenty of tofu and seaweed in a soft, comforting broth to maximise healthy factor!
Bento C looks equally generous with plenty of sushi and sushimi, super fresh tuna and salmon with similar accompaniments but we all get a bit of carb envy when the noodles arrive! A whopping plate full of spicy vermicelli noodles with fresh vegetables and we are soon bartering some salmon for noodles, there are plenty after all!!
We are in, fed and out in a flash and would gladly stop by again next time we are in town – yum yum!