Kew is quickly becoming a bit of a Foodie hub, with St Katherine's and Mister Bianco opening in the last few months old regulars like Chinese Jin Dumpling House are in just the right spot to attract Dumpling Lovers as they potter past!
Firstly – there is a catalogue of dumplings!! You can view the abridged version or you can gaze in wonder as you turn the pages of colourful pictures of dumplings, noodles and rice dishes , there is even a 'Coming Soon' section!
Chinese Jin is simple, paper table cloths to give you a licence to get messy! Dumplings are steamed or fried and serves are generous with either 16 Steamed or 12 fried!
We are hungry and huge fans of dumplings so we go for several different selections as well as some veggies and rice to balance everything out.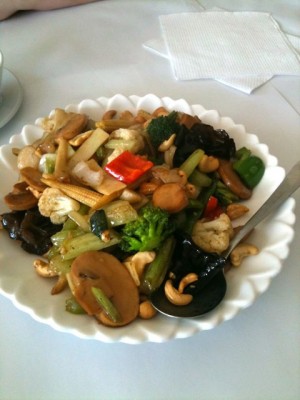 Fresh seasonal vegetables in a light sauce with plenty of cashews makes us all feel good to ordering something healthy! The first pile of dumplings arrive and the steamed pork with coriander dumplings are pale and wobbly on the plate – but what can you do?!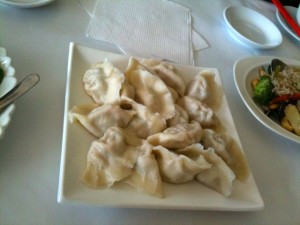 That's a sign of a good dumpling, nothing but velvety soft handkerchiefs smuggling yummy pork and aromatic coriander – dumpling number one – success!
The vegetable and cashew fried rice is not greasy, each little grain is happily mixing with crunchy broccoli and chinese mushrooms and my chopsticks are working overtime to grab each one and enjoy!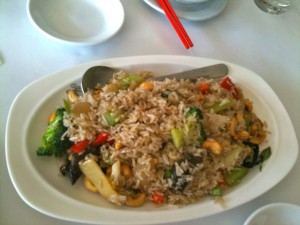 The next round of steamed dumpling are the spicy beef, again they are as pale as a Brit on their holidays but inside is a secret explosion of flavours, almost a soup dumpling full of rich spicy sauce, not spicy enough for some as we get a round of extra chilli for the table but they are great! dumpling number 2 – success!
The 'vegequarian' looks very excited as the first round of fried dumplings arrive, vermicelli and cabbage, a bit different but they are fantastic!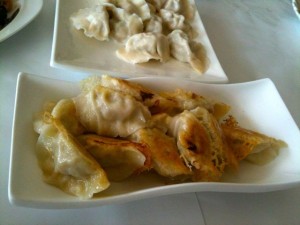 The fried version is perfectly blistered, there is no grease just a slight browning to the dumpling and then onto the plate – they are hot and they are fabulous! Sometimes the simplest flavours are the best ones! dumpling number 3 – success.
Finally the last plate is delivered with curry chicken and they are wonderful, mildy tangy curried chicken delivered in a lightly fried dumpling, they are wholesome and almost comforting, I am really full but I want to keep eating them! dumpling number 4 – success!
So overall – success, we ordered a total of 56 dumpling between 4 plus rice and veggies! A bit ambitious but Chinese Jin are too generous! We wanted to try a few different ones and usually for the same price you get three or four!!
There is no pretention here, the staff are friendly, polite and leave you too it, enjoy yourself and eat as many dumplings as you dare, at around $10 a serve you can go for your life!!
I will say the toilets were in need of a bit of a revamp, I have a weird preoccupation with toilets – to the point where I often want to mention them when writing these blogs but it seems a bit weird!! Anyways these ones need a bit of a tidy up and then we would have a great destination for dumpling addicts all over!