It's a cold blustery Sunday morning when we venture out to Bridge Road for brunch and a bit of economy boosting!
Richmond Hill Cafe Larder is busy, as usual and we are happy to put our name down for a table, we are even keen enough to go for an outdoor table if that gets us breakie faster!
No sooner have I started shopping across the road when the mobile rings and a table is ready for us! With the heaters running its not too chilly and we get the coffees ordered before starting to work through the breakie and lunch menus. They are pretty impressive and we struggle to decide between but breakie wins and I start with 'Something different' the breakfast bruschetta a toasted Dench's olive and rosemary bread with San Daniele prosciutto, baked field mushrooms, roasted Jerusalem artichokes and provolone piccante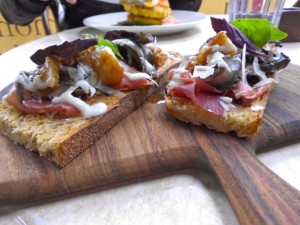 It is amazing, the bread is really tasty and the combination of mushrooms with prosciutto and the provolone is divine. It's zingy, its fresh, its a little awkward to eat delicately so I just dive on in!!
The other dish on our table is the corn and coriander fritters with smoked salmon, poached egg, spinach and 'RHCL Tomato & Capsicum Relish', I have to be honest my bruschetta was so good it may have over shadowed the fritters. They were generous and looked great, the relish was very tasty but there was definite food envy from the other side of the table!!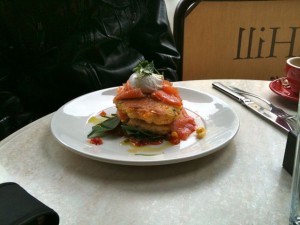 Another round of great coffees and we need to get going, it's a grey day and I am not sure the rain will hold off for much longer!