Breakfast time in South Melbourne and we manage to get a table at Cafe Sweethearts and flat whites are delivered super fast!
The menu is all about the eggs, a whole page of eggs, eggs with salmon, hollandaise, spinach, anything you like with eggs! They also serve the best kippers but today we want eggs!
Perfectly poached eggs on a herbed polenta square with roasted red peppers and a pinenut and spinach pesto is amazing. The eggs ooze like a rich yolky lava across the plate and the sweetness of the peppers and the zingy pesto is a formidable combination!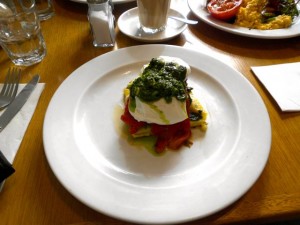 I think it's my new favourite!
Fellow diners tuck into hearty baked beans and a great looking homemade hash brown, the scrambled eggs look just right and the bacon is looking succulent and nicely charred!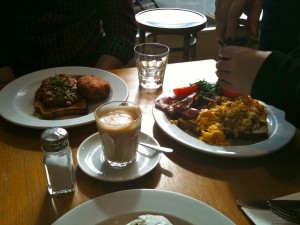 Cafe Sweethearts have been around for a long time and I am sure they will continue to be, their eggs rock!!
********************************************************
Previously visited 14th April 2011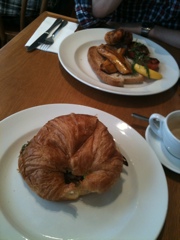 Saturday morning at Cafe Sweethearts, my old fave , still pulling the punches with new owners. The bacon and avo croissant could only be made envious by the kippers and homemade hash brown on hubby's plate.
Good coffee, some slight cruelty to muffins going on but a good place to be on a drizzly morning.