Omah's has been a hot spot on Rouse Street in Port Melbourne for many years, offering great Malaysian food, gorgeous surroundings and BYO – it's a great way to spend a friday night!
The byo is always a bonus and we are enjoying the new Brown Brothers Sparkling Moscato Rosa, even the boys are finding their softer side for a glass of fruity bubbles! Beers will be ordered later to ensure the balance is returned!!
The menu is varied and there are plenty of tasty dishes to tempt everyone, the tempura oysters that we start with are so good, crispy outer with a big, soft butter fresh oysters encased in a tempura batter of shredded potato, carrot & red onion and served with a yum lime mayo.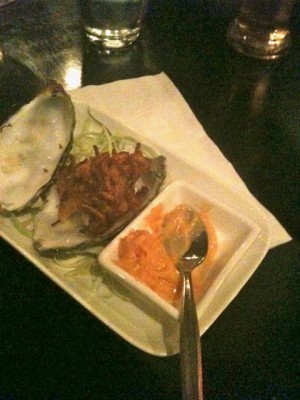 The five spice soft shell crab was oddly good! The consistency of the cracker biscuit coating and the sweetness with the spices worked really well and the crab was cooked perfectly.
Our friends are tucking into their spring rolls and soft roti with rich brown satay sauce, the mains have already been ordered but we make sure there are a few more serves of roti on their way with the next course!
The Kong Poh Chicken is a plate packed with succulent diced chicken breast fillets wok-tossed with dry chilli and fresh ginger, and plenty of snow peas, cashews & crunchy carrots.
The Honey Black Pepper Beef is a generous serving of perfectly rare grilled Scotch fillets marinated in b/pepper & trace of honey, the plate coloured with broccoli & bok choy. The dish is perfectly delicious and we are all tucking in to the dishes with plenty of steamed rice and fantastic roti.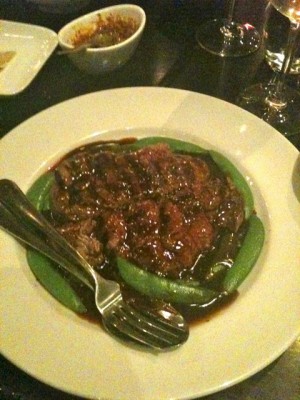 We don't have room for desserts tonight but I will be back to try lots more form the Omah's menu, chilli prawns, crab omelette, crispy beef, Omah's duck and their signature dish Chilli Crab!
Thanks to everyone at Omah's for a wonderful evening, see you soon!