After a few changeovers in the last couple of years White Rabbit is hopefully here to stay!
On the ever buzzing Church Street in Brighton, next to the train tracks, is White Rabbit Restaurant, a cosy eatery with black leather couches, wooden tables and smiling staff.
The wine list is good, plenty of reasonable by the glass and the 'Chairman of the Board' Chardonnay from the Borossa goes down really well!
The menu is great, there are small sharing plates, plenty of great sounding pizzas, pasta and steaks.
Fellow diners hit the pizzas and they come out looking perfect, super thin and crispy base, the salmon and dill smells beautiful and everything looks fresh and zingy.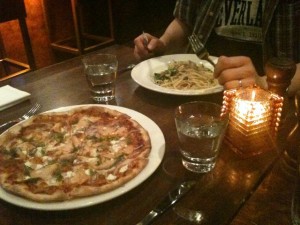 The mozzarella, fresh basil and tomato is simple, looks great and there isn't any left on the plates at the end of the night.
I however am craving meat! The eye fillet with cauliflower puree, sauteed field mushrooms, roasted on the vine cherry tomatoes with red wine jus and porchini butter sounds perfect and when it comes out I am not disappointed. The aromas coming from the plate are mouth watering, the fillet is medium rare but more on the rare side which is just how I like it! There is a garlic and herb crust on the top that is mixing with the porchini butter as it melts and creating a marriage of flavours that work beautifully with the super succulent fillet.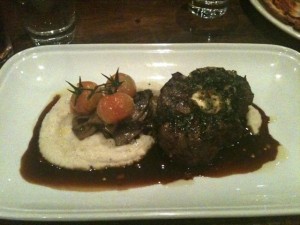 The cauliflower puree is smooth and creamy, packed with flavour and nice and light to accompany the meat, the red wine jus finishes off a perfect meaty heaven and I am feeling really happy at the end of the night.
I also manage to get snaffle a few mouthfuls of the meaty ragu gnocchi, with tomato and rosemary and thyme the dish is both delicate and packs a real punch. White Rabbit has replaced a previously turbulent spot on the strip and if they continue to keep up these standards they will be there for a long time!