Quite possibly some of the best Japanese I have had in a while, I am really glad that we headed up Northcote High Street to find this little gem!
It's pretty small and pretty busy with an interesting feature in the middle of the floor – it's very pretty but I worry someone might trip over it all one night!
The menu is filled with great sounding dishes, the usual suspects and also a fair few new dishes that I hadn't tried before. Firstly is the sweet potato gyoza, a really nice mix of sweet potato & chive mash dumplings, served with a soy dipping sauce. Not the usual gyoza filling but it is really delicious, like an Japanese Italian fusion!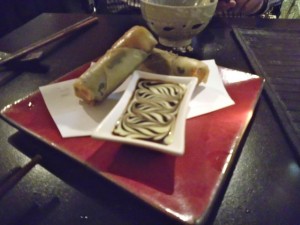 The Salmon Harumaki is amazing, a generous serving of salmon with cheese and nori spring rolls, the salmon is cooked just right and I love the Japanese mayo / bbq sauce to dip in.
The Kaki Sashimi – Oysters with ponzu apple dressing are delightlful, fresh, creamy and I could have gone another round easily!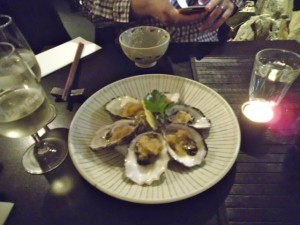 The Hotate Aburi Scallops is another dish I have never tried with 'torched' scallops butterflied onto rice and served with lemon and a say dipping sauce – DIVINE!!
BUT the best was the Kara-age chicken – it was so moist – the chicken marinated in soy, ginger & sake, deep-fried & served with lemon was crispy and full of flavour, the competition in Melbourne for the best fried chicken has really taken off lately and this is a real contender – yum yum yum.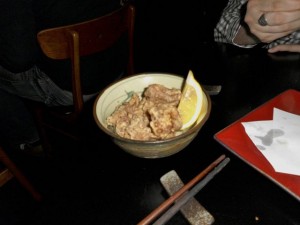 The wine list was great, all the prices were reasonable, the service was lovely and I would love an excuse to go back very soon!