The chance of spending three days exploring the King Valley on a wine course is just too tempting so off I go up the Hume to foodie heaven!
First foodie stop is lunch at The Brown Brothers Epicurean Centre, new chef Doug Elder is packing the menu with fantastic local produce and amazing winter warming food, it was sublime, the most tender Eye fillet of beef, braised ox-cheek sauce, parsnip, mushroom pangrattato, served with a fantastic 2006 Patricia Cabernet Sauvignon.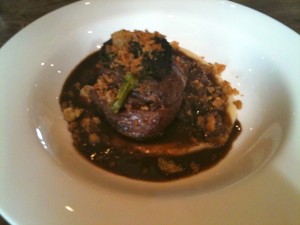 Continuing on with the decadence of foodie exploration we head off into the dark of the night to Beechworth to check out Gigi's the home of the fresh, seasonal produce packed into a great looking menu. Firstly, they bake our own bread and make their own butter! The Sourdough has a hint of parmesan and is sooooo good, we need another round!
The wine list is great with plenty of local and international wines, we go for a French 2008 Vouvray, from Marc Bredif – a variety that none of us have tried!
The food all sounds amazing and we go for a sharing platter for entrees which holds the most beautiful calamari, pumpkin and sage arancini, creamy cauliflower soup and a duck liver parfait in the style of a 'Golden Gaytime'!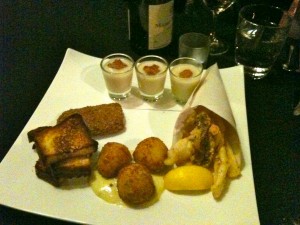 The mains all sound lovely and we fight over the last 'Slow poached Harrietville trout with a scallop mousse, braised leeks, avriga caviar and champagne cream foam' I win! But immediately have food envy for the wild mushroom gnocci that my friend receives, fortuntely we are good sharers!!
The staff are lovely and make sure we are happy and well fed and answer all questions with great knowledge and they show great respect for the food served and the produce used.
Desserts, so not necessary but guess what? There's a tasting plate! So we can all just have a tiny little treat!! Unless our waiter kindly makes sure there are three of everything, our plan foiled to try and reduce the calories we tuck into chocolate brownie, creme brulee and warm orange syrup cake with homemade pistachio ice cream.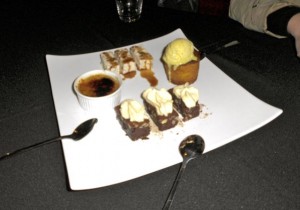 Coffees and we are back on the road into the night looking for more adventure and more wines!!
Day two at the wine course and we break for a well earned lunch (honestly wine tasting is very tiring!!) and we are back in the Epicurean Centre for a hearty serve of Lamb rump with anchovy and black olive crust, heirloom carrots and as we haven't had enough wine yet – stunning 2009 Cellar Door Release Montepulciano that combined with the lamb takes on a slightly more yummy, peppery flavour.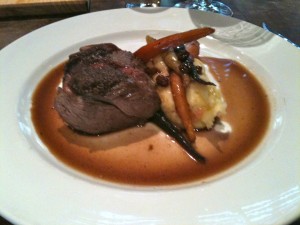 Back to work and we are going through comparitive tastings of wines from around the world across many different varietals!
And then we are off to Rinaldo's of Wangaratta, a great space, full of the smells of amazing Italian food and there is a big party of us all ready to get into some more wines – no more spitting tonight!
First up is half a dozen of ….. Oysters! For a change!! They are fresh, full of fresh sea water and a touch lemon makes them thoroughly delicious! There is also a wonderful roasted pumpkin and pine nut tart topped with slow roasted vine ripened cherry tomatoes and chevron cheese whip
Then…. oh its sooo good… Grain fed, Black Angus, 12 hour slow cooked rump steak served with creamy mash potato…. WOW!! Finished off with olive oil dressed green beans and Glenrowan port glaze – It is phenominal!!! Teamed up with a Delatite Reisling and I am in a very happy place.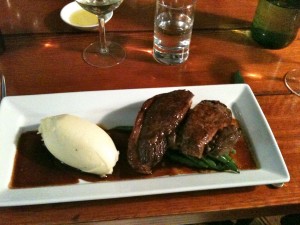 The meat is succulent, tender, flavoursome and partnered perfectly with creamy mash – its winter warmers at their best!
No dessert tonight, but fellow diners are diving into banana fritters filled with melted chocolate and served with house made vanilla ice cream and Affogato with shots of Frangelico… I think I missed out on that one!
Anyways home to bed as there will be more adventures tomorrow!
Day three and after finished off the wine course in style I head off to explore the rest of the Milawa Gourmet Region. First stop the Cheese Factory – it is a place of joy!! Shelves packed with local jams, chutneys, pestos and pastes. Meats, treats, apples, ice cream – it is fabulous and all surrounding lots and lots of lovely cheese!
You could get lost in a world of cheese here, first up is a bit of cheese tasting, its hard to know when to stop! Milawa Camembert – melting and creamy, Milawa White – smooth and cheddery, Milawa Club Blue – tangy, creamy and Mt Buffalo Blue -just delicious!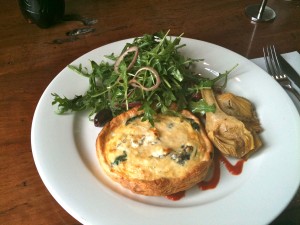 Then we move into the restaurant for lunch, a fantastic goats cheese and caramelised onion tart with artichokes and fresh salad. And then back in to pick up some treats to take home before we head off again. The bakery section is impressive, many different types of breads including the infamous corn cob.
From there Milawa and neighbouring Oxley offer many gourmet stops including Milawa mustards, the olive shop, Honey and Blue Ox berries, you can't fail to find something you like and plenty to take home.
It's with a full tummy, a few extra kilos (its the cheese – honest!!) I head back to Melbourne with happy memories and plenty of recommendations for fellow foodies for their next pilgrimage!
When planning yours make sure you check out;