Brunswick East is the spot for the latest addition to the growing number of Japanese Izakaya and Sake destinations popping up, Top Tip – no matter how many times you are told this is Brunswick East do not get off the tram in Carlton! Its a good 40 minutes walk!!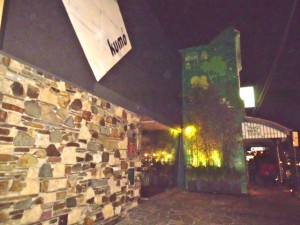 But it's worth it, the building looks sooooo cool, inside its really impressive, with a massive central communal table running down the middle, booths to one side and the bar runs to the other, Upstairs I can see a glimpse of very smart looking private tables but we are on the communal tonight!
It's pretty busy and there is a good vibe, the staff are efficient and nice and there are enough of them to ensure that they can stop to explain the menu and specials and how best to order.
First up we go for Sydney Rock oysters with ponzu and and lemon, there is an luscious creaminess that then turns to the heat and it works really well.
Then we have a colourful plate of Sashimi, the Chef's selection with scallop, tuna, kingfish and much much more.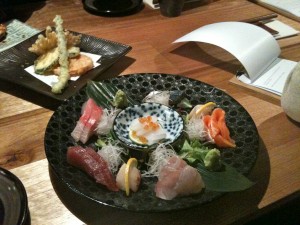 The yakatori chicken skewers are succulent and tasty followed by an assorted seasonal vegetable tempura, asparagus, lotus and sweet potato are nice and crispy and light.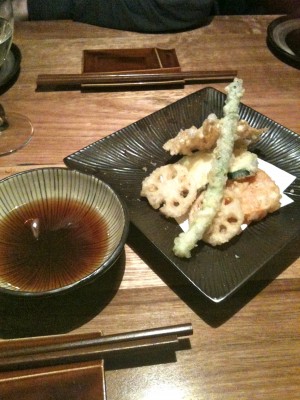 We are still a bit peckish so we order another round of Mount Langi Pinot Gris and the Wagyu Beef Turnip Cup! It's a funny dish, a perfectly cut turnip filled with sweet soy braised beef, swimming in a little stock moat, there is something old school Sunday dinner from the aromas that take me back to Grandmas! The turnip is so soft and tastes amazing, combined with flaked wagyu it is wholesome and warming. A small critism would be how this is supposed to be eaten with chopsticks! I asked whether we should have a spoon or fork and I got a knife which meant we could cut up the turnip and being chop stick professionals we made a valiant effort!!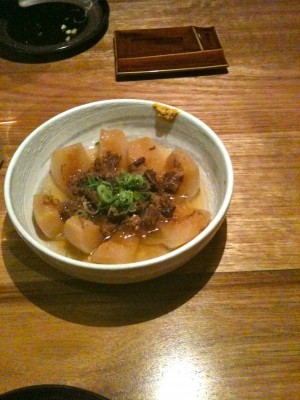 The kipfler potato with chilli mayo is ok, a good filler and then the creamy crab gratin arrives,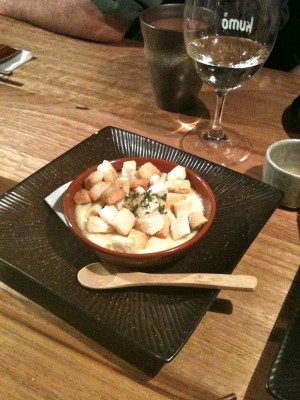 Again there is a flashback to a childhood memory with creamy, cheesey, herby flavours with the crab, again an odd one with chopsticks, a cracker or some bread would have helped this one along but the flavours are fantastic.
It's been super quick and we are finished within an hour, no dessert this time but as we head off into the cold I am again impressed with the building and how cool it looks!