How have I never been here before? Its Friday night and we are in need of food! A friend points us in the direction of Mezzo Bar and Grill and its gorgeous, the decoration is stunning and the staff are legends!
There are 3 inviting stools ready for us at the bar and lovely Travis provides a night of great service, never empty glasses and great food!
The oyster fettish continues with two serves, one natural with lemon and they are so increadibly creamy and fresh and then number two baked with sopressa, chilli and white balsamic equally yum noises follow!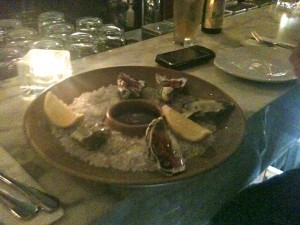 The baccala, peperoncino and parsley croquettes are wonderful, full of flavour and crunchy through to a creamy centre and the arancini filled with spinach, provolone cheese + chilli are quickly finished off with a lovely glass of bubbles from 48 degrees South from Tassie.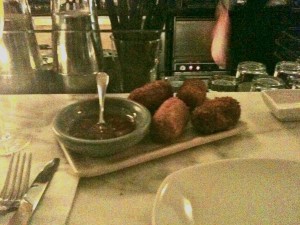 Hubbies Fish Fingers are gorgeous little fillets of fresh white fish crumbed and fried and served with yummy fries.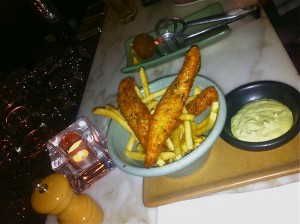 Before we know it its time to go and see Friendly Fires, we've had a brilliant time, couldn't have felt more welcome and will be back as well as trying out their new venture Mister Bianco in Kew.