I love a Friday night outing to find somewhere new, just opened Little Red Pocket has popped up on Little Collins and I feel pretty pleased when we scurry up the steps and into Japanese Tapas heaven!!
The decor and lighting are all my favourites, dark woods, plenty of red and soft lighting make a cosy and welcoming atmosphere.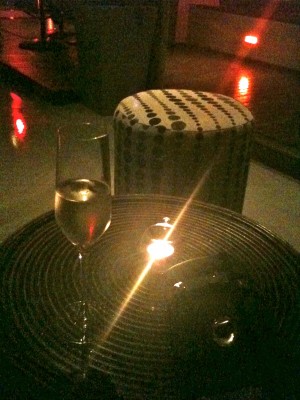 The staff are eager to get you comfy, set up with a menu and make sure there is a drink in your hand super quick, though some of the wine delivery hasn't quite made it the waitress points me in the direction of sparkling sake and it is a life changing moment!!! I have a new love for this little tipple!!
Hubby was happy with a big old Sapporo and I was off with the 'Japas' menu, Japanese Tapas is a great idea we'll have one of nearly everything and we can share!
The food is quick and beautifully presented, the Crispy Oysters are making my mouth water at the memory! Fresh oysters wrapped in crispy pastry topped with wasabi mayo and tobiko (flying fish roe), soooo goood!!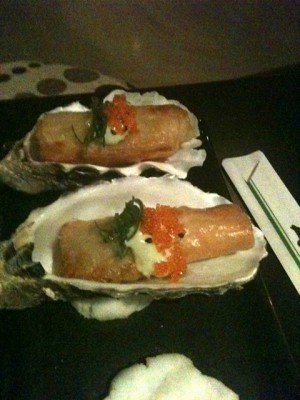 The Tea Cured Salmon is house smoked with green tea, cubed into bite sized morsels and loaded onto taster sticks and served with seaweed salad and finished with a yuzu dressing.
The beef tataki was great quality, wafer thin slices of seared eye fillet, stuffed with onion ponzu, and on a creamy peanut style sauce.
But it was the Ebi Tempura that had me making those embarressing faces of super food happiness, I could go back every night and just eat lots and lots of them!! Super fresh tiger prawns in a light and crispy batter served with a rich and tangy chili mayo – AMAZING!!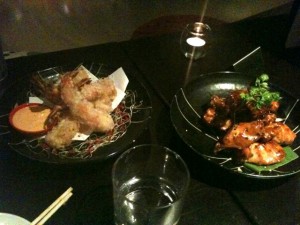 The service was great, empty glasses were quickly filled and I loved the lady who came to show us the demo version of the ordering system on the ipad – soon to be in place on all tables – How Cool!! Love it! Its a very clever idea that could see an awful lot of Japas being order just for the fun of using the ipad!!
Little Red Pocket we will be back very soon – I hope we will still be able to get in as I think you may become very popular!!
Shhhhh don't tell anyone!! www.littleredpocket.com.au