NOW CLOSED – CHANGING TO HELLENIC REPUBLIC 2 IN DEC 2013
Its too close not to keep going back…. its too good not to keep going back!!
Possibly the best way to start the working week – Monday lunch at St Katherines, second best way – free reign of the menu to order for the table!!
With the opportunity to share my favourites and try some new plates I am off and running, catering for a vegetarian means we have to have the saganaki with an orange marmalade drizzle – yummo!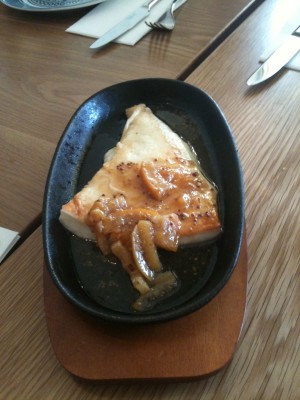 A round of the snack burgers proved a little disappointing as the recipe had changed, gone was the modern take on a Steamed Pork Bun and instead more of a roast pork in a brioche, not as good and from looking online it looks like the snack burger is now chicken or fish – always happy to see changes but I may have to start a campaign to BRING back the original snack burger!!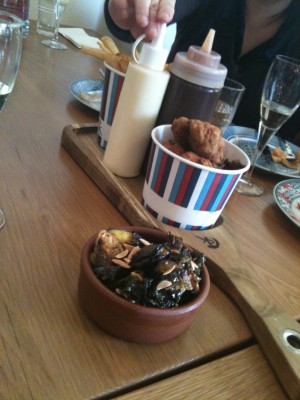 There was the mandatory bucket of KFC, the fantastic salad packed with pepitas and pomegranite, chips and we head into Pide territory with Pide 3 goats cheese, hazelnuts, winter mushrooms, cumin and Pide 4 basturma, prawns, feta.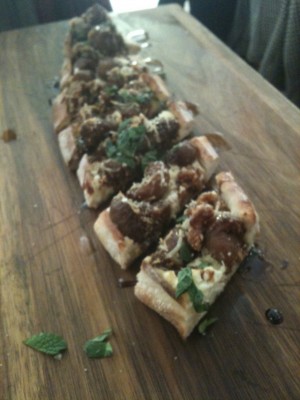 A great compliment to the share food on the table and we are nearly full, just room for a seasonal favourite……
Sprouts, they are the best caramelised yummy sprouts I have ever had, perhaps a little pricey at $10.50 a bowl but worth every penny. However the controversal veg does split the table in love /hate!!
No time for dessert today but I have no doubt we will be back very soon!
Check them out at http://www.stkatherines.com.au/#mid