Sometimes its Oysters and Mumm, sometimes its burgers and beer!
Saturday afternoon footy and its time to try out the Clarendon Pub on Clarendon, under new management and with a new menu. AND more importantly the promise of showing both games!
Its a tense day as Carlton go against Collingwood and Richmond play the Suns – surely one of us will be happy!
The pub is relatively quiet which means we get a table between both screens and the bar staff are happy to do table service, quickly sorted out with beers and menus and we are happy infront of the roaring fire!
The menu was good and the choices are widespread and tempting Pie? Parma? Salmon? Steak? Risotto? Burger? its a hard life!
Two pub classics are ordered, always a good test! The Burger and the Parma please!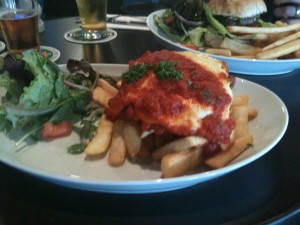 And they are great!
The parma is generous, well cooked, yummy tomato sauce and a great salad to make me feel a little less naughty! Good chips – happy camper!
The burger is really tasty and there is a great tangy relish that brings it all together.
The beers keep coming and unfortunately Carlton kept hitting the post! No winners today… except for our tummies!