Good Company, Good Wine and hot coals! Perfect Friday night at The Guhng on Mckillop Street.
There is a queue out of the door and its only 7pm, and its only for people with bookings! Fortunately the guys and gals at The Palace are super fit and are flying up and down the 4 flights of stairs getting everyone to their tables and delivering the purple hot coals to get cooking on!
We get a great spot and are quickly looked after with corn water – not tap water and this is very pleasant and somehow soothing! Our fellow diners are soon sat with us armed with BYO (bonus in the City – only $7) there is far too much talking to dissect the menu in too much detail so we go for the Beef banquet for four – at $40  a head this is going to be a cheap night!!
The table is quickly transformed into a Korean BBQ…..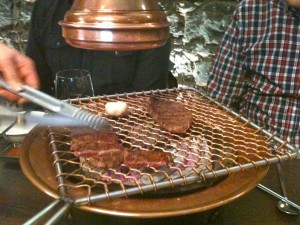 The first part of the banquet is a great fresh salad with beef short rib and we nibble away as the table is covered with rice, accompaniments and the wine is poured.
The meat is amazing, wagyu steak, oyster blade and ribs are slapped onto the grill each time with a single mushroom placed as a timer! When the mushroom is shrivelling the meat is ready to turn! And the meat is amazing, crispy, smokey perfectly barbequed meat with a fantastic kimchi hot pot on the side.
But the best bit of a banquet for four – you can choose all four desserts to share!! Green Tea Tiramisu, Black Sesame ice cream, Green Tea ice cream and Blackberry Pannacoota – Wooo hooo!!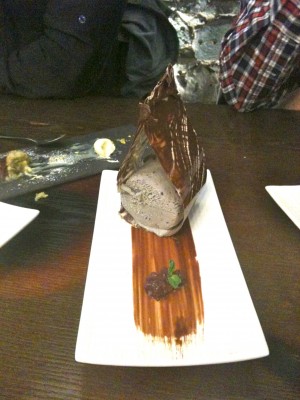 The presentation of ice cream rolls in a white and milk chocolate swirled teardrops is fantastic and much more than I was expecting in a Korean BBQ! They were all amazing but as we all argued over the favourites I had to claim the pannacotta as the winner!!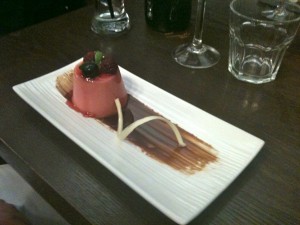 The service was fantastic, the place had a real buzz and the design and decoration was impressive, the original blue stone walls and the intricate brass piped extractors for each table as well as decadent touches of beautiful crockery displays and the delicate brass curtains over the wall.