THIS RESTAURANT HAS NOW CLOSED

I'm not too familiar with Hawthorn but when we are heading off to The Undertaker I am sure I have heard about it on the foodie grapevine.
When we arrive it is looking very cosy and super styled! The light fixtures of wire buckets crammed with light bulbs with only one lit, are really cool!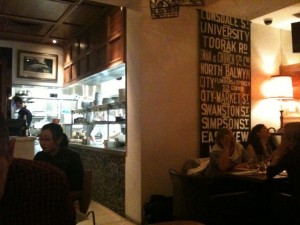 The tables are nice and spaced out and the seats comfy, the staff are easy going and we sit back for a reaxxing evening of good food, wine and company.
The menu is varied and plenty to choose from, my Roasted barramundi with celeriac puree, sauteed wild mushrooms and hazelnuts in bang on the mark, the fish is beautifully cooked and the accompanying celeriac puree is smooth and creamy. The mushrooms and jus finish off a pretty perfect plate.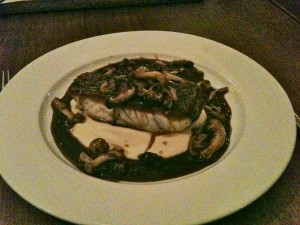 In comparison, hubbies burger and fries is equally magnifique! Its not JUST a burger! Its a 220g waygu beef burger with smoked cheddar, caramelised onions and pancetta, its a big boys burger and it requires big hands and a big serviette, infact there isn't much white left on the serviette when we are finished. Its great!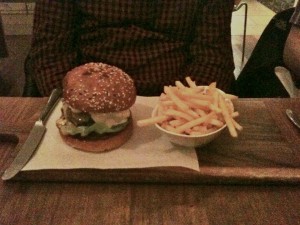 Friends at the table have the kangaroo special, a generous serving of perfectly cooked kangaroo on a bed of celeriac puree and vibrant jus, there are smiles all round!!
A few drinks later and all of the mains have been finsihed off and the enticing dessert menu results in a Baked Persian Feta cheesecake with black pepper rhubarb and yoghurt ice cream – Yummy!! The cheesecake is super creamy and the black pepper causes a few debates on the table, it sounds wrong but it works!!
We are all happy after a few coffees and we head off out into the night, happy that we visited The Undertaker.