Buckets of fun at St Katherine's!
A lunchtime outing to Georges latest and greatest is the playful St Katherine's on Cotham Road, Kew. Through the heavy wooden doors and we enter a little bit of an oasis, the restaurant is decorated in a relaxed natural style with plenty of space and happy faces.
Some of those happy faces were ours at managing to get a table after the many favourable reviews of the new 'girl' on the street. The staff look great in their funky t'shirts and waistcoats and though we were served by several different people everyone had just the right level of laid back professionalism that made us very comfortable and ready to go.
The menu is designed for sharing and this is where Greek / Turkish meets fun! We all chose a dish from the 'Stuff' side of the menu and the resulting dishes were heaven!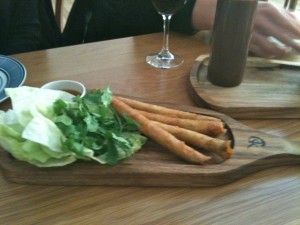 Firstly arrived the duck spring rolls, the long thin cigars with delicate duck meat and light flavours were yummy in their lettuce and herb wraps, perfectly crispy without any grease. The Coca Cola ribs were hunky chucks of moist slow cooked lamb with a sticky sauce, candied coconut and a hit of lime, I think the best sign you can have is the pile of leftover bones stripped clean!!
The 'Snack burger's were so cute, a new take on the chinese bbq pork bun, the delicate burger bun was formed from the traditional fluffy white dough and the filling was a gorgeous piece of roasted pork with refreshing cucumber salad. The Greek flag spiked in the top was another bit of fun that makes St Katherine's a playground for foodies!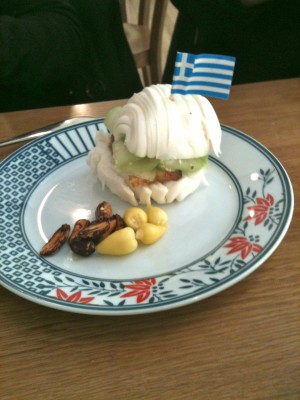 The KFC – Katherine's Fried Chicken was divine!! The fact that they are delivered in their own little St Katherine's buckets brings childish glee to everyones face on the table, coupled with the crispy, juicy chicken pieces and delicate BBQ sauce, its the dish of guilty pleasures!!
The extra dish we ordered at the last minute as a real surprise, Turkish lamb dumplings are mini cushions of spicy lamb on a bed of garlic yoghurt with spicy sumac and mint – the flavours are amazing and the dumplings are so perfectly formed that you almost want just one big spoon and your own portion to enjoy all to yourself!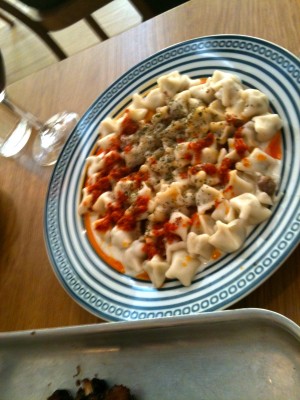 But, as Sinead would say – 'Nothing compares to………' Disgusting Dessert – inspired by our favourite chocolate bars, is modestly presented in a plastic topped baking dish that provides a hint of the wonder inside. Homemade Mars bars, Violet Crumble, salted caramel, Marshmallows, coconut ice cream and a pool of think cherry foam were decadently delish!!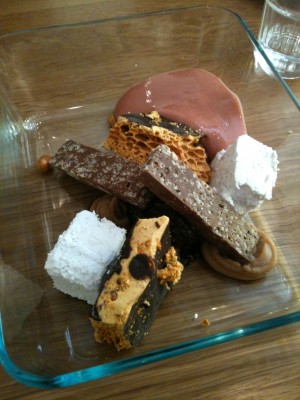 The small touches at St Katherine's were not lost on us, the colourful Mediterranean crockery, wooden serving paddles and decorative touches made this a wonderful place to be and I love the Dyson Hand dryers. But best feature of all was George having a lunch with a big group in front of the kitchen, he looked like he was having almost as much fun as me!!