Fourth day open, Sunday night and it's packed! Chris Lucas' new Chin Chin on Flinders Lane is super cool! The decor is brilliant, self titled posters, lighting is super-stylee and the music is ecclectic! We dined whilst tapping our feet to the The Smiths, Radiohead and the Beach Boys!
The staff were perfection! We were there early on so there did seem to be a lot of people milling around but 30 mins in and they are slammed!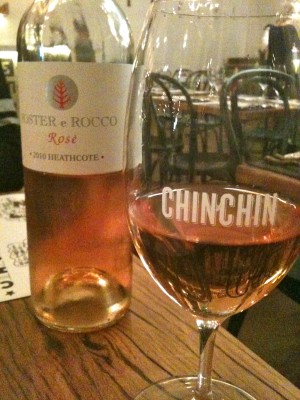 The Wine Guy (as his apron stated!!) Neil was lovely, we easily selected a lovely bottle of Sangiovese Rose from Foster e Rocco. I loved that the wine list was varied, the house wine was endearingly described and the wine makers were listed with their wines.
So, the menu – cute placemat menus packed with a huge choice of fabulous sounding food. The was a great option to let the chef select for you "Feed Me" 7 dishes for $55 would be brilliant except there were already a few dishes I already had my eye on!
We started with "Batemans Bay" rock oysters, SHUCKED – thank you!!! They were just gorgeous, buttery, melt on the mouth and the Namh Jim dressing was spicy and perfect to compliment the most amazing oysters!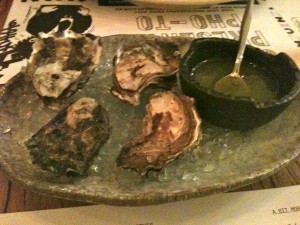 Next on was the spicy corn and coriander fritters with their self assemble lettuce, daikon and chilli jam wraps. They were great! Not too spicy but bring on the 'Golden Srirachi hot chili Sauce' appearing on every table and you can give everything a chilli kick!
And then …. Steamed Dumplings with chicken, sweetcorn & shitake were heavenly, the spring onion and ginger dressing was soooooo good!
BUT stop everything! The Grilled Roti Madtarbak filled with indian spiced beef and cucumber relish is making my mouth water as I type – the best ever!!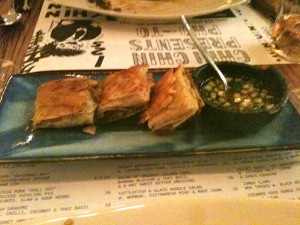 The twice cooked short ribs weren't available (good excuse to visit again!) so we went for the Caramalised Sticky Pork with Siamese watercress and chilli vinegar and it is to die for! You know the moment you both take a mouthful and then without words try to express the party going on in your mouth ??!!
Finally, and completely more than we needed, the Salt and Pepper Squid with Nuoc Cham and Vietnamese mint was yummy! Light and crispy, it was hard not to finish!
My only critism of the night would be the speed at the dishes coming out! Not a real concern but I would have preferred a few gaps in between dishes, however I am sure I could have asked and the lovely staff would have done exactly that!
We were stuffed but a Punt Road dessert wine chilled beautifully and the promise of a dessert platter to share were too enticing!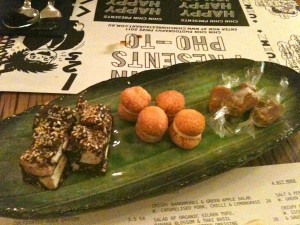 The coconut mini macaroon, rocky road squares and caramels were so gorgeous and obviously freshly made, melt in the mouth fabulous! I wish I had had room for more!
Sadly we had to roll out of the door before we started again, its only fair to let other lucky diners get their table and begin the feasting!
There isn't much I can say that isn't good about Chin Chin, even the cutlery was cool!!
One last word, our waitress was as new as the restaurant and though nervous, she was an absolute star, she was attentive, passionate about the menu and just gorgeous. It makes such a difference when the people in your restaurant are so dedicated.
When we left we were asked "how was your experience at Chin Chin?"
In a word – 'exceptional' I cannot wait to go back for more!!
Check them out at http://chinchinrestaurant.com.au/