A competition to win a Winter in Italy themed cooking experience? Why not! Especially as I won seats for two!!
I have to be honest we trudged out on a cold wet night across South Melbourne with slight hesitation at the thought of a cooking class – it was hard to go past the pub and not just settle for a burger and beer…………………. But we chose right! We carried on to the LG Kitchen at South Melbourne Market and were treated to one hell of a cooking experience!
Setting the scene…. Slide the glass doors into a relatively small room, big square table for ten against the cooking counter with preperation area and cameras showing images on the screens on the walls. Simon Moss, our chef for the night, from Sapore is quick to come over and say hello and I start to get the feeling this isn't just a teacher shouting at you how to roll pasta.
Infact when we take our seats there is a glass of chilled white (completely forgot to ask what it was!!) poured for us whilst Simon and Emily prepared a roasted beetroot and goats cheese salad with farro to nibble on whilst we got started. Gorgeous baby beets with their tops on, sweet and succulent with creamy cheese and crunchy breadcrumb topping or 'pangrattato'.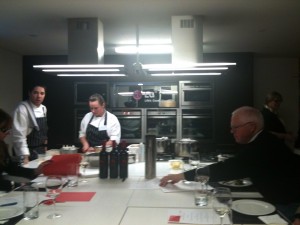 Simon seemed very relaxed at the helm, 10 eager sets of eyes were waiting for mouthwatering food and the experts top tips – no pressure!! The masterclass was a great mix of eating amazing food and learning how to prepare and cook the ingredients. Next course was Porcini Zuppa or as I like to refer to it the MOST amazing mushroom soup I have ever had!!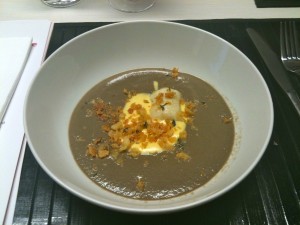 And of course its not just soup! Its Zuppa with a parmesan Zabaglioni and ricotta dumpling! I have only made ricotta dumplings or gnocchi once before and they were a disaster, I needed Simon's recipe obviously!! So we start off with a quick top tip in dicing an onion, I'll be honest, I needed this, no one had ever shown me how to cut an onion properly! So for those of you with my little secret see below!
Top Tip 1
Chopping an onion – look at the peeled onion and you will see a core end and a non core end! Slice down the middle so that you have two halves each with a core end. Slice down in the onion leaving the core end intact, slice along at intervals and then slice horizontal to the core at two points. At this point you will have an onion with slices all over BUT the core should still be holding everything together!! Now you can slice down across the onion and produce the perfect dice…. Make any sense at all without pictures?!!
Top Tip 2
When cooking onion if you don't want the onion to brown or caramelise put some salt in!!
So 1 kg of beautiful porcini mushrooms join the onion in the pan and it all cooks down with cream and stock and dried porcini and all the lovely smells fill a room!! Emily puts together the ricotta pillows, when she brought around the bowl, the waft of truffle oil was very exciting!! She makes it look so easily as she convinces the mixture to form a light fluffy dough to form the gnocchi from! The soup in the meantime is liquidised – in the Magimix – so quiet! Must get me one of those!!
The soup is then passed through a fine sieve before being ready to serve with its little ricotta pillow and the parmesan zabaglione, as Simon took is through, very much like a hollandaise but instead of the vinegar we have parmesan.
If you can picture two people sat on their chairs, bowls in one hand and spoons in the other making yummy noises until they are drowned out by scraping of spoons on bowl – IT WAS AMAZING!!! Interestingly Simon was really honest and fessed up that they had completely forgotten to bring the garlic but the soup still tasted like it was there, obviously the flavours all married up to not need it!
Top Tip 3
Never wash or peel your mushrooms!! They will absorb the water and ruin the flavour! Wipe them with a damp cloth, give them a little brush or use the fine sieve for the soup to remove any bits of grit or dirt!
Okay next on the menu, and served with a glass of lovely red – a sangiovese blend (was not paying enough attention to the wines this night!!) 'Stainglass' Ravioli with veal ragu, celeriac two ways and beurre noisette.
I have never tried the technique of putting herbs into my freshly rolled pasta, probably because the pasta machine hasn't seen the light of day for some time!! But Emily and Simon pull together a beautiful silky pasta dough and once rested they roll out and incorporate sage leaves in the final rolling.
Top Tip 4
Only use the leaves NOT the stalks – they will tear the pasta.
I was amazed as the pasta sheet got longer and longer the sage leaves stretched along with it and the effect was very 'chefy'!! Prepared Veal ragu was popped into the ravioli sheets and cooked up to sit on a bed of creamy beautiful celeriac mash and a scattering of perfectly diced roasted celeriac. I am a big fan of the ugliest root veggie but I had never tried this raw – as Simon taught us how to prepare it we tried a few shards and it was surprisingly nice – definitely add that one to a salad one day! Though its only in season for a few months so grab it quick!!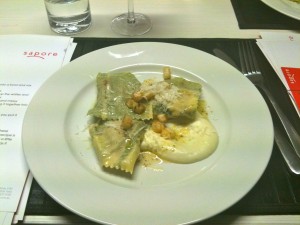 It was a mixed group of people and though I felt like a reasonable understanding, Simon was very clever at working on all levels from where to get beetroots to cooking farrow! Considering it was cooking a 4 course dinner for ten people in 2 1/2 hours he was very good at narrating the recipes and sharing the tricks of the trade!
The final was dessert, poached rhubarb and white chocolate sponge with sugared almonds! W…O…W!!! Again Chef Moss was fully prepared for any eventualities and though the sponge mixture suffered in the timings required, a prepared slice of heaven was awaiting in the fridge! The thinnest lightest sponge played base to a lovely poached rhubard and zabaglione BUT it was the almonds that I loved the most!
Emily whipped up egg whites and icing sugar and then painstakingly seperated each one on a baking sheet to cook through – they were crunchy and yummy and all about the 'textures' that we had been talking about that evening.
I haven't visited Simon's restaurant Sapore in Fiztroy Street St Kilda but if this is the quality of food he can prepare out of the comfort of his own kitchen then I will be booking in a visit very soon!
Special thanks to Simon, Emily, The lovely lady who looked after us all night and South Melbourne Market. The Cooking classes and Master classes are on all the time and information is on the website