When I noticed The Free Range Cook was in Melbourne I had a silly idea we might pass on the street and I could have a Star Spotting moment, but better than that I got to have lunch with Annabel Langbein instead!
Twitter is a wonderful place and when I saw a tweet to win the chance to have a VIP coffee with Annabel I jumped at the chance, it was easy to respond about my favourite book, I have cooked so much from it!
So off to Chadstone on a Saturday morning, would only do it for Annabel! And following a book signing at the ABC shop we managed to score a great table at the Capital Kitchen to enjoy a spot of lunch and find out all about Annabel.
Firstly, the Capital Kitchen is a fantastic place, I had assumed Chaddie would be all food courts and burgers but this little foodie haven offered a swag of beautiful products and some really impressive food.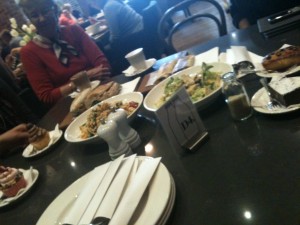 The group of us enjoyed a selection of offerings including a beautifully fresh pesto covered gnocci and a lovely chicken salad. There were naughty cakes that were delish and panini and cous cous it was all of a great standard….. but we were a little distracted!
It was an absolutely pleasure to sit with Annabel and her team and her lovely husband who, not surprisingly, had a fabulous passion for food.
It was a great afternoon hearing all about how a few short videos posted on you tube resulted in the Free Range Cook series we have enjoyed on ABC, Annabel has published many books and is popular in many different countries and is just gorgeous!
Over coffees we went through the photos of Annabel's night at Vue De Monde and the degustation she enjoyed as part of the 'research' she was doing in Melbourne – tough job!!
We had to leave eventually, we were lucky enough to take with us some Capital Kitchen passion fruit scented yo yos and mixed berry jam that were amazing!
It was a once in a lifetime opportunity to meet a foodie hero – I will cherish my newly signed book and will continue to cook from it, get yourselves a copy of The Free Range Cook and enjoy the many lovely recipes like chocolate cherry tiramisu, lemon curd, crumbles and much more!