When you have something to celebrate and a Saturday afternoon for enjoy it I recommend to relax at The Atlantic.
Set on the Yarra you can watch the world go by whilst sipping on a crisp glass of bubbles from Yarrabank or a lovely Yering riesling, take your time to absorb the extensive menu offering all the seafood you could ever need and then some.
There was little deliberation that we were here to celebrate and it was the seafood platter for two!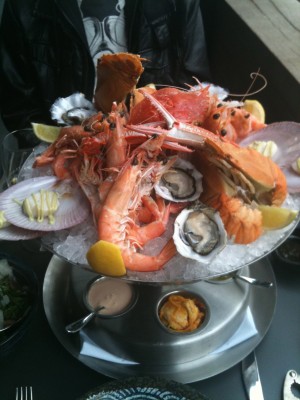 It was exceptional, prawns, scallops, crab, bugs and oysters piled high with all the right condiments.
The oysters were fresh, salty and perfectly yum, the scallops served with a wasabi mayonnaise were my favourite and the bug and crab were a pleasure!
The staff were, as they should be, well presented and pleasant, the perfect level of attention and detail.
We enjoyed cracking into our crab and digging in for the last morsels, we also shared an particularly lovely simple salad with grilled figs and the bread and olive oil were top class, more please!
We finished the afternoon with some amazing cocktails, the Southside and the Port Punch, and big smiles.