If you can't say something nice, don't say nothing at all ………..
Which I agree with in principle however I feel I should warn any other unfortunate souls who are considering treating themselves and heading to The Court House for their new Sunday lunch offering to think twice!
Last Sunday was a huge disappointment, made worse by the fact that we were 'invited' as part of their new loyalty club and offered a free bottle of wine to get us over to North Melbourne! The waitress then rudely tried to imply that we couldn't have the wine as we hadn't mentioned it on booking – we had, even though the email didn't ask us to!
The menu looked nice, the dining room had a good buzz and the waitress was good at interrupting and generally being quite rude! Heaven for bid you ask whether there might be availability of 8 of the oyster specials – 2 each??!! Hell NO! 6 or 12 and nothing else!
The saganaki and croquette starters we shared were nice, the debated bottle of wine was also nice!
Mains were promising, having eaten there before and raved on about rolled pigs head and heavenly fish I imagined $27 roast beef, yorkshires, roasties with veg and fresh horseradish would be on my mind for days after eating ….. And it was, for all the wrong reasons.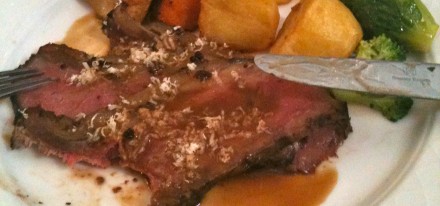 What I was served would have been ok if I was at the dodgy local pub and it was $10 and included a pot! If nothing else a chef of that standard should be able to make a Yorkshire pud! The sad lump of heavy thick batter was embarrassing! The veg were average and the beef was unexciting!
The pork looked equally average and equally overpriced. We didn't speak much through dinner, we didn't look at the dessert menu, we didn't leave a tip.
I know those guys can do better so before I wrote this I emailed to see whether they would return an explanation, the chef was sick and his granny stepped in? That might work.
No response as yet!