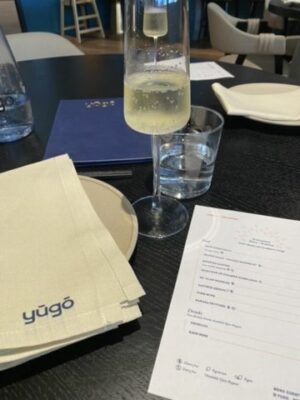 Who fancies a Sunday of Bottomless Prosecco and a feast of Yum Cha? 2 hours of fun, there's beers too and then a set menu of so many dumplings, noodles, spring rolls and a very special prawn toastie….. you will be ready to pop by the end of it!! Chef Scott Eddington has designed a Sunday Brunch for the fearless, it's generous, delicious and has a few little unexpected touches to make it the perfect way to spend a Sunday. Set up in the Crowne Plaza, it's an easy one to get to with trams and trains a plenty and for those not partaking in the bubbles there is a free valet service to reward any designated drivers.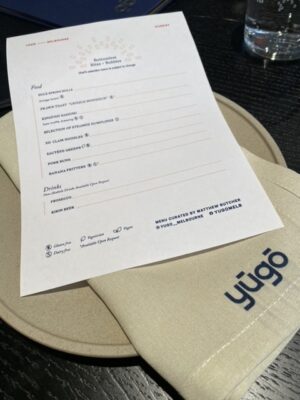 Now food – cos that's what we are all about, I love a bit of yum cha but the hectic trolleys flying around and trying to grab what you think is in those little steamers can sometimes be a bit much, Yugo have cleverly set the menu for you so no negotiating which dishes you all want or not over spending or over ordering – it's all decided for you, sit back and let the Prosecco and beers flow whilst the team bring you 10 selected dishes including a tower of dumplings!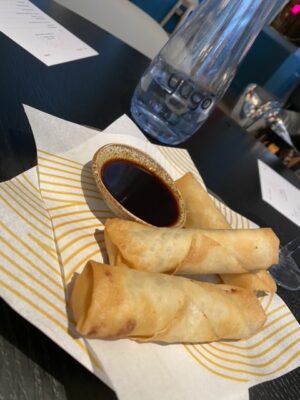 Hmmmmm those familiar with Foodie About Town will know we are duck fanatics and though we can often be found snaffling on a ducky pancake but hold on –  the Yugo duck spring rolls were damn good! A big boy with a generous amount of meat, super crispy and with their spin on the traditional duck saucing with a hoisin and orange combo dipping sauce, my mouth is watering at the thought of these and bonus round, our fellow diner doesn't love the duck so we get extra!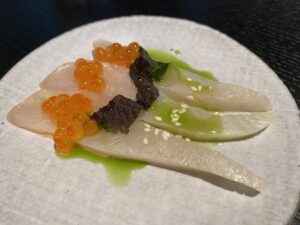 Sensationally fresh Kingfish Sashimi with salmon roe and yuzu truffle dressing, I'm a new fan of yuzu and it is such a perfect citrus punch with the fish and those little salty popping roe.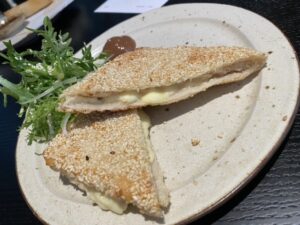 Ok, prawn toast – it's the best, we all love it as a guilty pleasure but this is the new and upgraded Prawn Toast Croque Monsieur! Gone is the greasy fried bread and uber thick coating of sesame, Chef Matt has taken two of the best things in life and made a cheesy prawn toastie with a delicate coating of sesame – it shouldn't work but it really does, the only problem is being patient enough to let it cool!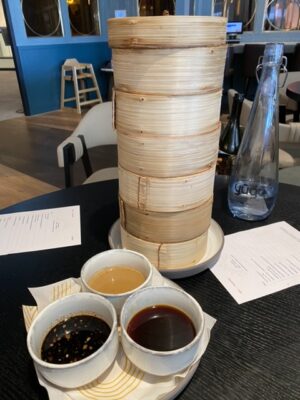 Did I mention a tower of dumplings? Did I mention a generous set menu of yum cha heaven? Obviously it depends on the number of people at your table, the towers can get bigger or smaller but you are going to love what is inside!!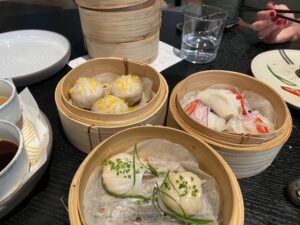 The pork dumplings were the biggest and juiciest I have had in ages! Oh… I could so eat them now and then Chef Scott has curated three sauces to go with the dumplings and there is a pepper sauce that we all went a little crazy for, so good with my pork dumplings and seriously, thicken that stuff up and I could be looking for a yum cha poutines angle! Prawn and Ginger dumplings, textbook perfectly delicious and excellent wrapper to filling ratios all around.  The Bamboo and Shitake were also a solid fave with that cheeky bit of texture adding a little je ne sais quoi!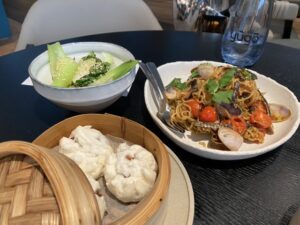 Just when you thought you couldn't eat anymore and it couldn't get any better – enter the best pork buns ever and a pile of noodles and some wholesome steamed greens! But those little pork buns were A- the perfect size, not too big, not too small… just right! And B – just the right amount of sweet pork juicy filling. And C – Divine!!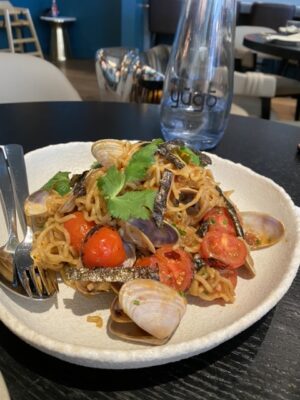 Along with duck pancakes I think noodles are in my top 5 fave dishes ever, that can be a pretty wide category and I have no problem with that! Yugos XO Clam noodles did not disappoint, that perfect level of stickiness in the noodles, plenty of sweet little clams, roasted tomatoes mixing with the XO to create a dish that you don't care how tight your pants are getting you just want to keep going…. oh I would smash a bowl of this right now if I could! Greens were greens! Perfectly done, we all felt a little better as that bowl will totally balance out the amount of Prosecco flowing!!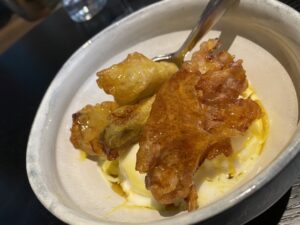 And then just when you thought you were done, that second dessert stomach kicks in and allows for much wolfing down of banana fritters with vanilla ice cream….. just fabulous, super crispy, soft banana sweetness and ooooeeeyyy goooeeeyyy syrup and melting ice cream – perfection!!
It was a perfect Sunday afternoon, no dinner required! $75 a head will get you all the Prosecco or beer you desire and the set menu of yumtastic yum cha! I fully recommend a visit to these guys very soon, I know I am already working out when we can go again. Find out more and book in here