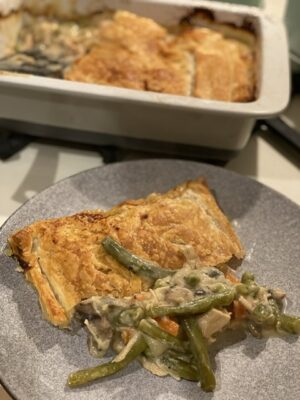 Leftover Turkey Puff Pie
Ingredients:
250gs Leftover Turkey Meat
100gs Green beans, ends off and cut in half
75gs Frozen Peas
100mls White wine – I went a Riesling
75gs Sliced mushrooms
2 carrots diced
1 brown onion roughly chopped
1 garlic clove roughly chopped
2 celery sticks diced
Half a small cauliflower
300mls Almond milk
300mls Chicken Bone broth or stock
Salt and pepper
Slug of olive oil
1 piece of frozen puff pastry
Method:
Preheat the oven at 180 degrees.
Put the cauliflower in a microwaveable bowl covered with cling for 8mins or until soft.
Put the olive oil in a medium sized pan and  add onions and garlic for three minutes. Then add mushrooms, carrots, celery, salt and pepper for two minutes. Then add the white wine and simmer for two minutes. Then add turkey, peas and green beans.
When the cauliflower is soft use a stick blender to cream and then add to the pot with the broth and milk.  Stir together and simmer on a low heat until thickened.
Pour into a small casserole dish and then place your puff pastry on top and spray with oil or use an egg wash.
Bake in the oven for 30 mins or until pastry is golden.
Serve with mashed potatoes and a smile