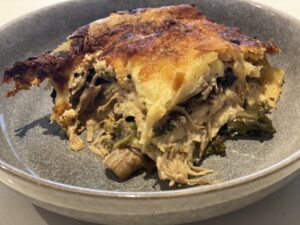 Mushroom & Kale Lasagne
Remember when we could go out and eat and drink????!!!! Such a distant memory thanks to COVID! The only good side is that my cooking skills have ramped up substantially and I am surprising myself with what I can rustle up! As most of the day revolves around food and the menu revolves around what needs eating or is due to expire. Today we have a load of mushrooms and a bunch of kale plus some ricotta skidding towards its last few days – easy lasagne!!

Ingredients;
For the mushroom ragu;
3 garlic cloves crushed
8 shiitake mushrooms sliced
300 grms of regular button mushrooms sliced
Pack of enoki mushrooms sliced
100 grms of dried mushrooms soaked in a bit of boiling water submerged about 1cm
Half a bunch of kale shredded
1 tbsp of tomato paste
2 cups of stock or bone broth
Fresh thyme
Splash of red wine vinegar
Splash of Worcestershire
Salt and pepper
For the lasagne;
1 tub of smooth ricotta
1 cup of almond coconut milk (use regular if you like)
200gs grated cheese – I used a mix of pizza cheese and Parmesan
Lasagne sheets – I use gluten free ones
Method;
Preheat your oven at 180 degrees.
In a high sided pan heat 1sp of EVOV and cook the garlic for a minute then start to add your mushrooms, thyme and kale, add the vinegar salt, pepper and Worcestershire and cook for about 10 mins.
Add the stock or broth, soaked dried mushroom and liquor and the tomato paste and leave on a low heat for another 10 mins.
Mix the ricotta and milk together and then assemble your lasagne, I use a medium sized rectangle dish, 1/3 of the ragu on the bottom, then cover in a single layer of lasagne sheets then 1/3 of the ricotta mix.
Repeat twice so you have three layers with all of the ragu and ricotta mix used and then cover with grated cheese and cook in the oven for about 30 mins. I like to cook mine ahead of time and then warm again for 20 mins when ready to eat.