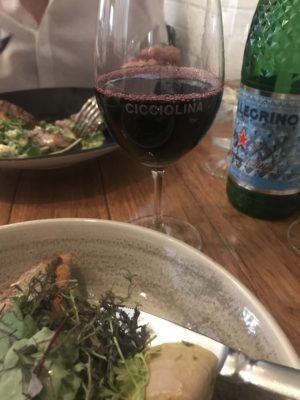 When selecting where we should spend our Christmas Eve lunch there were a lot of contenders, whilst being a little more frugal around the Christmas period, this was part of our presents to each other, a delicious, decadent lunch with a little too much wine!! Ofcourse it should be Cicciolina's! An intimate Italian on the ever changing Acland Street, you can bring all the nasty chains in but this place will still be here in another 20 years! The menu is awesome, it's seasonal, fresh, nod to tradition and a flash of modern, trying to pick one dish is so hard, they all sound fabulous!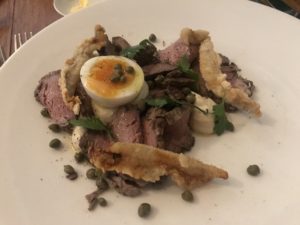 Entrees come with options like figs with buratta, basil, walnuts and honey – sounds simply beautiful, brains wrapped in prosciutto with burnt butter, sour cream, pickled fennel and herb salad – not my thing but I am certain if I was ever going to try them it should be these ones! Tuna carpaccio with baby capers, lime oil, watercress and charred sourdough – imagine it would be a super fresh dish, blue swimmer crab, shallot and lemon thyme soufflé with a champagne and chive velouté – oh god yes!! Or the buffalo milk panna cotta with heirloom beetroots, pistachios and a sumac and chardonnay vinaigrette – finally the vegetarian doesn't feel a second thought but I was all about the special….. Vitello Tonnato – poached veal fillet with tuna aioli, fried white anchovies, capers and egg. I agree if I think too much on the dish I start to get the meat guilts but for the once in a decade that I eat this dish it was perfection especially those cheeky fried anchovies.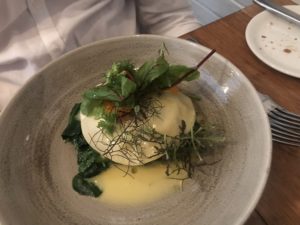 Hubby went the Lobster Raviolo, just gorgeous, creamy, rich, luscious pasta, chunky fresh lobster – a dish I wish I could eat everyday!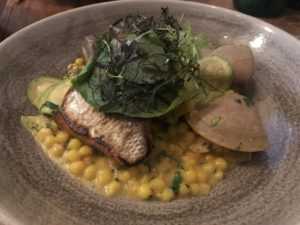 Main dishes, as with the starters change frequently with the best in season and the specials also deliver more amazing choices, think 'Vialone Nano' risotto with taleggio cheese, spinach and pinenuts, linguini with Tasmanian Atlantic salmon, braised leek, capers, baby spinach, lemon and olive oil, roast spatchcock with salsa verde, lima beans, cos lettuce and lemon, chargrilled 350gm John Dee wagyu scotch fillet, with a tomato and parsley salad, anchovy and chardonnay vinaigrette or I went with the special baby snapper fillet with diamond clams, mograbiah, zucchini, tomato, saffron and mascarpone, delicate, meaty, crispy skinned fish with a rich saffron dressing and fresh vegetables, it was a faultless dish that kept me smiling long after we left.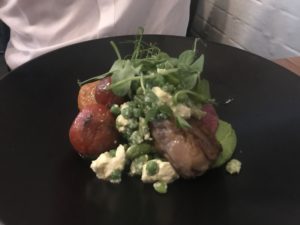 Hubby went the Lamb Rump with peas, broad beans, baby beets and Persian feta – dramatically different to my dish but still managed to share, super tender lamb, generous portion, Spring peas and beans and the zingy feta – another perfect dish.
There will always be a special place in my heart for Cicciolina's – it's a feel good place through and through.