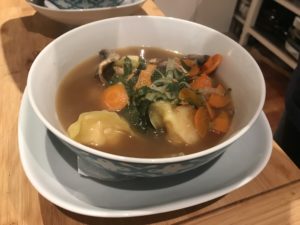 Ginger prawn dumpling soup
Ingredients:
Prawn and ginger dumplings – I buy amazing ones from South Melb. Market 😉
500ml Chicken Bone Broth
1tsp grated garlic
1tsp grated ginger
1 small red chilli sliced – use as you like, if it's a no to spicy then take out the seeds and only add half 
1 large carrot sliced
2 spring onions slices
Handful of sliced mushrooms- as exotic as you like
4 leaves of bok choy sliced
Method:
Steam the dumplings.
In a separate pan add the bone broth and aromatics, then add the carrots, mushrooms and bok choy
The dumplings take 15 mins so I let the stock develop until they are done 
Serve in deep bowls – pop the dumplings in the bowl and then poor over the broth – I let mine cool for 10 mins!
Enjoy!