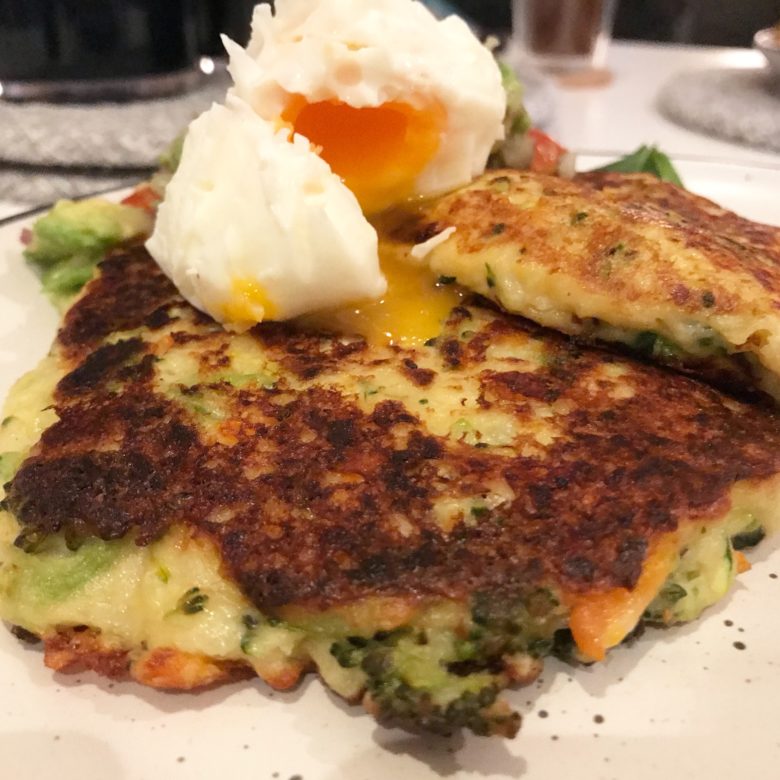 When brunch is at home and you want something hearty, healthy and delish try my 4 veg cheesy fritters with avocado salsa.
Ingredients;
Serves 2 (with extras to freeze or lunch!)
1 x Carrot – grated (your grater on the food processor is your best friend here – just run everything through together)
1 x Zucchini – grated
1/2 head of cauliflower – riced
Small head of broccoli – chopped
Half a pack of halloumi- grated
1 x ball of mozzarella- grated
1 x cup of plain flour (we used gluten free)
1 x cup of Almond milk
1 x egg
Salsa;
1 x Avocado cut into chunks
1/2 pack of cherry tomatoes quartered
1 x small red onion chopped
Half a lime squeezed
Salt & Pepper
To serve – Handful of spinach and a poached egg
Method;
Take the salsa ingredients avocado, tomatoes and red onion, mix with salt, pepper and lime. Put to one side.
Microwave the cauliflower and broccoli for 5 minutes whilst whisking the batter with the milk, egg and flour with a pinch of Salt and Pepper.
Mix all the remaining ingredients apart from the spinach, into the batter and in a spray oiled pan cook the fritters, measure out with a 1 cup measure. It should make around 8. Cook for around 9 minutes per side on a medium heat or until golden brown and keep warm in the oven whilst you finish the rest.
Serve with the salsa, spinach and a poached egg for a brunch that will make you feel super healthy and well fed!!
Enjoy ?