We are loving FoodieFridays these days and Oriental Teahouse's invite was locked straight in for our next Friday lunch outing. We hadn't been out to Chapel Street for a while and it was a pretty quick Uber over to visit and try some of the best dumplings EVER!! The staff were super lovely and warm, the space modern but with a traditional under current, the cocktail list impressive and the menu….. WOW!!! How about 21 different types of dumnplings – pan fried, long bao, prawn, pork, chicken, buns, veggie, spicy, even football dumplings…! Check out the menu here.
We let our lovely host guide us through the 'must have' items, even I couldn't attempt to navigate through all of those choices!!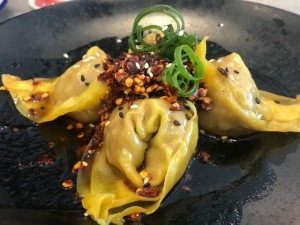 Authentic Prawn Dumplings with shrimp and sesame – so perfectly lovely in every way!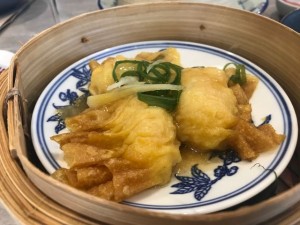 Chilli Wagyu Beef Dumplings Marinated in kaffir lime and served with house made chilli sauce – WOW jam packed full of meaty loveliness and a punch with that chilli sauce.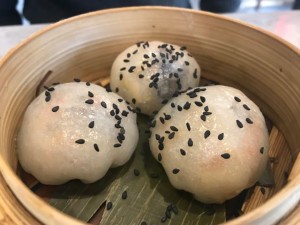 Mushroom Dumplings – steamed, guilt-free parcels with three types of mushroom, carrot and water chestnut – I love mushrooms and these were packed full of earthy goodness.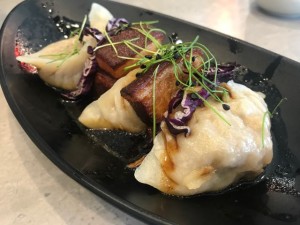 Flame Thrower Pulled Pork Dumplings and slices of pork belly – seriously?! You get amazing yummy dumplings AND pork belly cooked to perfection! Winner!!
Then there is the rest of the menu, how do you choose?!? Crackling Roast Pork belly, calamari, BBQ Roast Pork, Eye Fillet Steak, Chicken ribs, Szechuan Pepper Chicken, chicken feet, egg noodles, tofu, veggies, sliders and so much more….. it's a Libran nightmare… I want it all!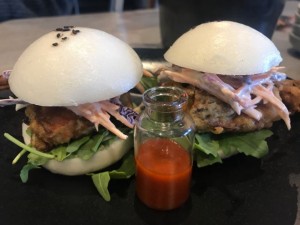 Soft Shell Crab Sliders With Siracha Sauce – still trying to win hubby over with soft shell crab and this one didn't work either but it was a good one in my books!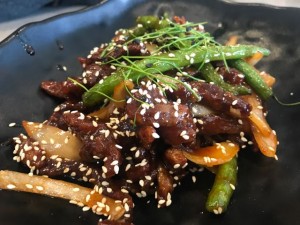 Shredded Steak In A Sticky Sweet Chilli Sauce with string beans and sesame seeds – WOW gnarly sticky lovely steak, I could eat this dish everyday!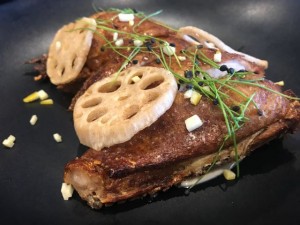 Crispy Skin Oolong Tea Smoked Chicken With Raspberry Tea Mayo – sensational, you could really taste the smoked tea and the raspberry tea mayo is legendary!
AND then there was dessert! I dare you to try and choose between;
Chinese Wonka Dumplings – Fried Sesame & Sticky Rice Spheres Filled With Melted Milk Chocolate
Signature White Chocolate Dumplings – Steamed & Topped With Coconut & Peanut Praline
Raindrop Cake With A Fresh Fruit Tea Syrup, Served With Roasted Soy Bean Powder
Fried Walnut, Peanut Butter & Chocolate Wontons
Sweet Potato Dumplings With A Liquid Palm Sugar, Lime Center With Toasted Coconut
Bao – Doughnuts Dusted With Sugar & Chinese 5 Spice, Filled With Silky Custard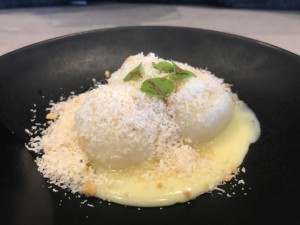 I went for the recommended Signature White Chocolate Dumplings – Steamed & Topped With Coconut & Peanut Praline – OMG…. Like a dumpling Raffaelo chocolate, my new absolute favourite dessert LOVE!!!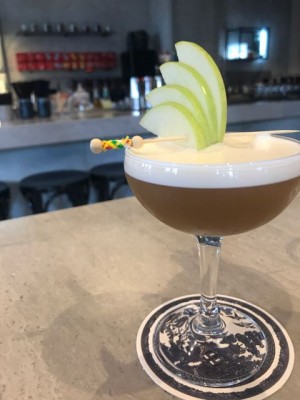 Cocktails were also the go here with a fab cocktail lounge upstairs, my Apple Sencha Martini with Apple Sencha Tea infused 42 Below Vodka, Apple and Lemon rocked my world, so pretty and as promised the Sencha bought out a fabulous caramel in the mix Yum!!
We had the best time, the music was pumpimg and we stuffed ourselves silly! I would recommend it any day of the week!