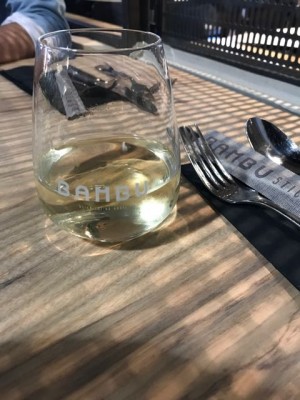 South Melbourne's new Asian eating house is looking super hot and the food is pretty damn good too!
It's a big menu with way too much temptation for a Libran but we'll push on through – start with something small like salmon sashimi with mild coconut & Thai herbs, Smoked ocean trout rice paper rolls, Vietnamese pulled pork sliders, Asian Tacos with Roasted duck and mandarin salsa, Wok tossed tumeric chicken ribs or Crunchy tofu fries…………. I want it all!!! In the words of music legends Queen and I want it NOW!!!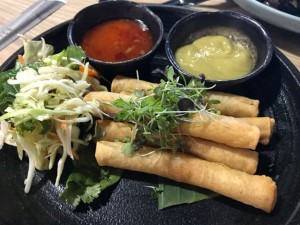 Prawn spring rolls with avocado dip and sweet chilli sauce were fabulous, super crispy yummy little wrapped prawns. Love!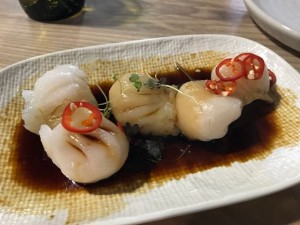 Dumplings a plenty with crystal skin vegetable dumplings, chilli prawn dumplings, steamed chicken buns, pork wontons and steamed chicken dumplings. How to choose? The chilli prawns were great, wobbly little parcels with a banging chilli sauce.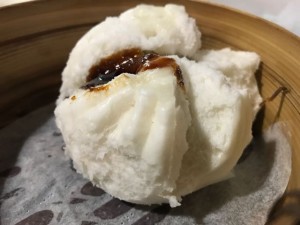 Hubby went for a steamed chicken bun but I think he really wanted it to the a BBQ pork bun so wasn't a favourite.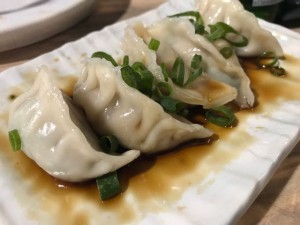 Steamed Chicken dumplings were gorgeous, super fragrant chicken inside and full of goodness.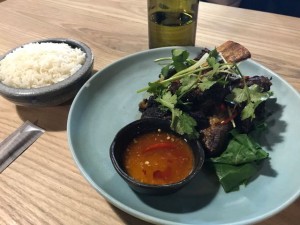 The menu continues with BBQ plates of Chicken satay, BBQ sticky beef ribs, Squid skewers, BBQ Singapore otak otak salmon fillet in banana leaf. The BBQ stick beef were fall apart lovely, lot of fat and bit to filter through but the meat was gorgeous and the chilli caramel and lime nam jim sauce divine.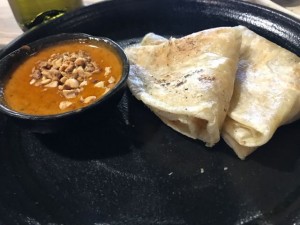 Perfect bit of roti to wrap some sticky BBQ beef in or just dip into a really good satay sauce.
It was a really nice lunch, with all of the hustle and bustle of the market it's a perfect spot to get some cheeky dumplings and watch the world go by.