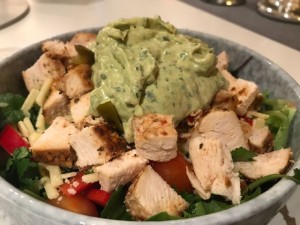 Mexican Chicken Salad
Ingredients;
1 large Chicken Breast
1/3 Cucumber
10 Cherry tomatoes
1 cup of cooked corn
3 handfuls of mixed salad leaves
1/2 cup of coriander leaves
Method;
Rub the chicken with a splash of oil and a teaspoon of Mexican Spice (see below), roast in the oven for 25 mins or until cooked through.
Layer your salad bowl in one big bowl or individual bowls with leaves, cucumber, tomatoes, coriander, corn and then chop up the chicken and layer on top and then pour over the Avocado Dream Topping!
Enjoy!
Avocado Dream Topping

1 x avocado
1 1/2 bunch coriander (washed)
1 tbsp sour cream
1/2 tbsp fresh lime juice (add more to taste)
1/2 tsp of Mexican Seasoning (see below)
1 tbsp EVoO
S&P
Put everything into a mini mixer and blend until smooth – YUM!!
Mexican Seasoning

1 tablespoon chili powder (add more to taste)
1/2 teaspoon garlic powder
¼ teaspoon onion powder
¼ teaspoon dried oregano
½ teaspoon paprika
1½ teaspoons ground cumin
1 teaspoon salt
1 teaspoon black pepper