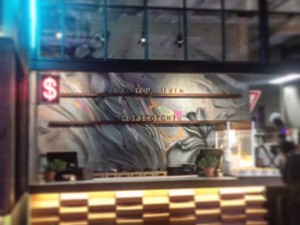 Welcome to Southbank's latest resident HOPSCOTCH, the guys were kind enough to invite FoodieAboutTown to a sneak preview and this is what they had to say – Found on the riverside promenade overlooking the river, Melbourne's new Urban Beer Bar complete with 30 flavours of beer on tap. HOPSCOTCH is a downbeat gathering place with a beer for every occasion. The craftiest of them all will feature as a boutique batch from the custom microbrewery scheduled to arrive on site in January.
An exclusive brew will change every month and is personally prepared by local Victorian makers. Customers can also explore the tap and fridge menu for local and independent drops. If cocktails are more your thing, you can't go past the 'DIY Kocktail Kits', a Cocktail on Tap or the Spiked Slushies. Try the barman's favourites: DIY Espresso kit, Frozen Margi slushie and signature cocktail the 'Bearded Sailor'.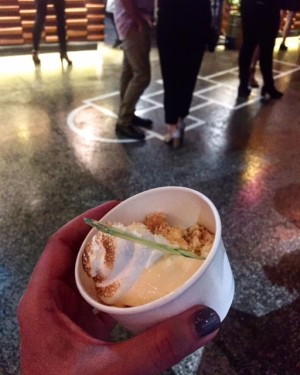 Food-wise, HOPSCOTCH is all about a quick, quality hand full of fun so you can balance your drink in the other hand. Head Chef, Adam Baughan's menu is next level street food with worldly flavours that certainly pack a punch – Baughan recommends the Beer Can Chicken (winner winner chicken dinner), The Reuben and Bearded Beef Lover brewer board. The kitchen cooks from open (11:30am Mon – Fri and 8:30am Sat – Sun) until late every night and does a killer breakfast on the weekends with waffles like Wow! Lemon Meringue Pie waffle anyone? There's also a Nitro Ice-cream Bar on site – think ballin' ice-cream beer and bacon cups!
Melbourne's adjacent arts precinct inspired HOPSCOTCH to commission local urban artist RESIO to liven up the walls, creating the laidback feel that makes you want to say 'ahhh' after every sip. The waterfront terrace and laneway courtyard are perfect for a quiet one, and the main bar and open kitchen makes for a lively hang out post-work or pre-dance.
Love a bit of beer and banter? HOPSCOTCH will cheers to that!